The National Institutes of Health (NIH) recently announced it will fund a large randomized clinical trial to assess whether existing drugs already approved by the Food and Drug Administration (FDA) can be repurposed to treat COVID-19 at home.
The NIH said it will provide $155 million in funding for a Phase 3 trial to test the effectiveness of seven over-the-counter and prescription medications to lessen the severity and duration of mild-to-moderate COVID-19 symptoms.
"While we're doing a good job with treating hospitalized patients with severe disease, we don't currently have an approved medication that can be self-administered to ease symptoms of people suffering mild disease at home, and reduce the chance of their needing hospitalization," NIH Director Dr. Francis Collins said in a press release. "ACTIV-6 will evaluate whether certain drugs showing promise in small trials can pass the rigor of a larger trial."
Under ACTIV-6 protocol, repurposing approved drugs for a condition other than its original indication could allow for quicker treatment options for COVID-19 since the medications have already established safety records as they've been tested in humans.
ACTIV, or the Accelerating COVID-19 Therapeutic Interventions and Vaccines, is a "public-private partnership involving 20 biopharmaceutical companies, academic experts, and multiple federal agencies" to accelerate drug research that normally takes years to "develop a safe, effective therapy."
Up to 13,500 participants, aged 30 and older, who have tested positive for the disease and experienced at least two mild-to-moderate COVID-19 symptoms in the first seven days will be recruited for the trial in a few weeks.
Participants will be randomly assigned to receive "either a placebo or one of the treatments, which will be sent to them by mail." Their symptoms will be evaluated for 14 days, with hospitalization and death assessed for 28 days. Long-term symptoms will be examined 90 days after treatment begins.
NIH said it is still in the process of finalizing the drugs to be used in the study, which participants can take at home in oral form or as an inhaler. Currently, more than 20 of the over 1,000 drugs have been reviewed and are undergoing further investigation.
"For ACTIV-6, more than 20 repurposed agents, from the over 1,000 that ACTIV has reviewed, that met basic safety and administration criteria have been vetted and ranked from highest to lowest priority," Steven Benowitz of the NIH's National Center for Advancing Translational Sciences (NCATS) wrote in an email to The Epoch Times. NCATS will oversee the study.
"Drug supply and placebo availability for several of the high priority agents identified in this initial round of ACTIV-6 agent prioritization are currently under investigation. Final decisions on the agents that are tested in ACTIV-6 will depend on both the scientific priority of the agent as assessed by the ACTIV-6 Agent Prioritization Committee and the timely availability of sufficient amounts of drug and placebo for the needs of the trial," Benowitz added.
The long-awaited randomized trial comes five months after several doctors first testified at a Senate hearing in November 2020 on the early, outpatient treatment of COVID-19 with medications like ivermectin and hydroxychloroquine.
"Experts have testified before the U.S. Senate that a study to repurpose safe and effective therapeutics and other treatments is the first step the NIH should have taken the moment they learned of the potential for a new global pandemic," Dr. Teryn Clarke, communications director at America's Frontline Doctors (AFLDS) told The Epoch Times via email. "Simple, inexpensive repurposed medications such as ivermectin and hydroxychloroquine have been closely studied and many countries are already successfully using them for early outpatient therapy. Additional study will therefore reveal what AFLDS and others already know: the time to offer these safe and effective treatments over the counter in America is now."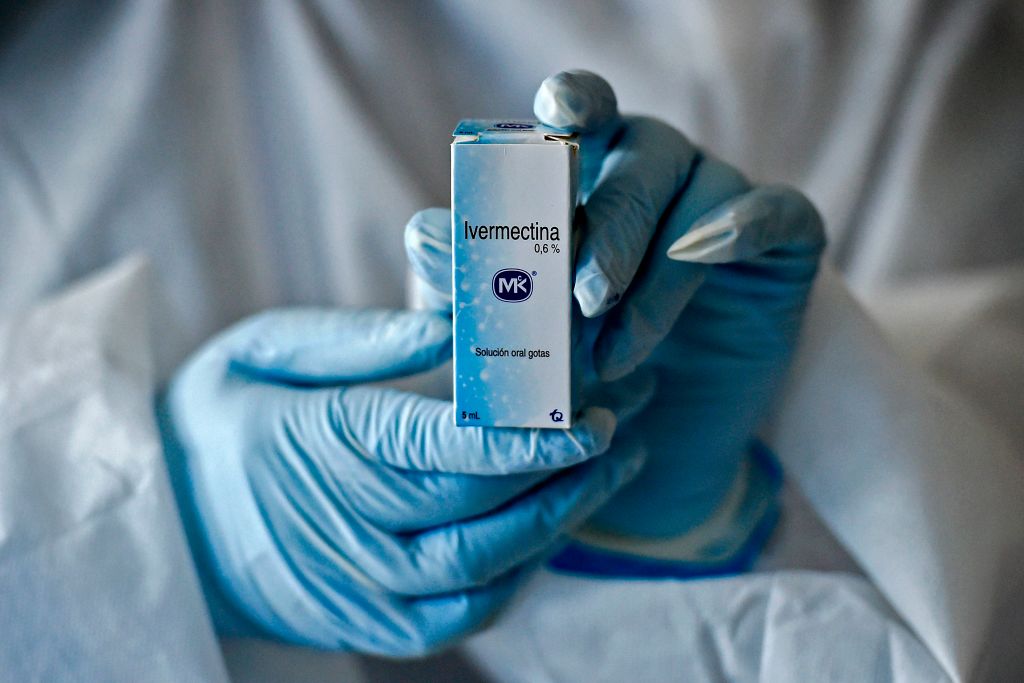 Physicians at Front Line COVID-19 Critical Care (FLCCC) Alliance, who have been using ivermectin to treat COVID-19 patients successfully since last fall, have welcomed the announcement.
"This is clearly a good thing as repurposed drugs likely have a major role to play in the treatment and prophylaxis of COVID-19," Dr. Paul Marik, Chief of Pulmonary and Critical Care Medicine at Eastern Virginia Medical School and co-founder of FLCCC Alliance told The Epoch Times in an email. "We are hopeful that Ivermectin will be one of the drugs included in this study."
"However, based on the totality of the data, one could argue that it is unethical to do a placebo controlled study (in which patients get placebo alone)," he added.
FLCCC Alliance says that further randomized placebo-controlled trials should be avoided since more than 3,000 patients have already "been included within numerous randomized, controlled trials with the overall signal of benefit in important clinical outcomes strongly positive with tight confidence intervals."
"This would make the likelihood of causing significant harm to study subjects in a medical research trial using placebo to be unacceptably high given excessive morbidity and mortality associated with COVID-19," the organization continued.
According to ivmmeta.com, a website providing real-time meta-analysis of ivermectin studies, there have been 52 trials on ivermectin involving more than 17,000 patients, of which 27 were randomized controlled studies and 18 focused on early treatment.
Ninety-six percent of the 27 randomized controlled studies "report positive effect, with an estimated 65 percent improvement" and a low relative risk of mortality, the website said.
Ivermectin has to date been an effective medication used to treat parasitic infections like river blindness and lymphatic filariasis, and has proven safe to use at a certain dosage for over 30 years. The inexpensive drug gained attention as a possible therapy for COVID-19 in March 2020 after an Australian study showed that certain doses of ivermectin could inhibit the replication of the CCP virus in a laboratory. It suggested further human trials to determine what doses of ivermectin in humans could work as a safe antiviral for COVID-19.
The CCP (Chinese Communist Party) virus is another name for SARS-CoV-2 that causes the disease COVID-19.
Marik and his team at FLCCC Alliance, who developed the I-Mask+ protocol to prevent and treat early symptoms of COVID-19, have been advocating for the early use of Ivermectin. They presented their findings (pdf) on ivermectin to the NIH in January 2021, after which the NIH updated its guidance from initially recommending against ivermectin in treating COVID-19 to a neutral position, stating there weren't sufficient data to "recommend either for or against" the drug.
Asked why the NIH was only now conducting such an important trial, Benowitz said it was because the federal agency was focused on vaccine development and treatment options for severe COVID-19 early in the pandemic.
"Because there were no drugs tested or approved for use against SARS-CoV-2 infection at the beginning of the pandemic in early 2020, NIH focused its research efforts at that time on developing vaccines and finding therapy options for those with severe COVID-19 who faced the greatest risk of death," Benowitz said. He did not specify if ivermectin is included among the drugs being tested.
The NIH says there are currently no approved treatment for outpatients with mild to moderate COVID-19, and only a handful of drugs are approved for hospitalized COVID-19 patients requiring supplemental oxygen—remdesivir (an antiviral agent), dexamethasone (a corticosteroid), and tocilizumab (a recombinant humanized anti-interleukin-6 receptor monoclonal antibody).