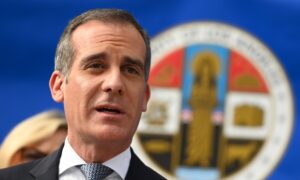 Democratic Los Angeles Mayor Eric Garcetti has called for a modest 3 percent increase in law enforcement funding after an 80 percent spike in shootings this year, bucking "defund the police" advocates.
Garcetti's proposed $11.2-billion budget (pdf) for the coming fiscal year allocates $1.76 billion for the Los Angeles Police Department (LAPD), up from the $1.71 billion the council approved last summer when they opted to slash the police budget by $150 million amid protests and pressure to defund the police following the death of George Floyd in Minneapolis.
"If you want to abolish the police, you're talking to the wrong mayor," Garcetti said on April 20, during his 2021 State of the City address in Los Angeles.
Still, the policing budget is lower than the $1.85 billion that Garcetti budgeted last year for the LAPD.
Craig Lally, president of the Los Angeles Police League, a union representing rank-and-file police officers, told The Los Angeles Times that, while Garcetti's proposed budget "does make investments in beginning to add back officers to patrol our streets," it fails to address the "significant damage" caused by last year's cut.
"We are hopeful that City Council is committed to rebuilding the department as well," he added, according to the outlet.
An aide to the mayor said at a briefing Tuesday that the decision to give the police budget a modest boost was partly prompted by rising crime, according to the LA Times.
LAPD crime statistics for last week (pdf) show that shootings are up 80 percent compared to the same period last year, homicides are up 28 percent, and aggravated assaults have increased by 14 percent.
Garcetti, too, made reference to rising crime during his State of the City address, during which he unveiled much of his spending plan, which he called a "justice budget."
"The first job of the city is to guarantee a life without fear," he said, adding, "that's all the more important to remember during a year when across America, homicides are rising."
"So parts of the guarantee in this budget are familiar, like making sure 911 calls are answered right away. But other parts mean pushing the envelope, investing in the alternatives to policing that prevent crime and interrupt cycles of violence," he added.
"When situations don't need guns, let's not send guns," Garcetti said, adding that, "this justice budget funds a new approach we're calling TURN: Therapeutic Unarmed Response for Neighborhoods," which involves sending clinicians instead of police officers to respond to non-violent mental health emergencies.
The TURN program would allocate nearly $19 million to a combination of initiatives, including some $10 million towards alternative mental health crisis response programs, which are still being developed, according to LAist.
Garcetti's budget also allocates $32.5 million to the Gang Reduction and Youth Development program, which involves intervention officers—some of whom are former gang members—providing mentoring to young people to keep them from joining gangs.
The "justice budget" also allocates $2 million for so-called "peace and healing centers,"
The spending plan still requires City Council approval.