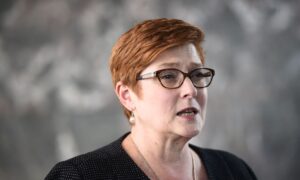 Australia's Foreign Minister Marise Payne has defended her decision to intervene and cancel the state of Victoria's Belt and Road deals with Beijing after the Chinese embassy lashed out, labelling the move "unreasonable and provocative."
ABC AM host Sabra Lane told Payne she'd have to be naive to think Beijing won't retaliate given the various tariffs and import problems imposed by the Chinese regime on wine, barley, beef, seafood, coal, and timber over the last year.
Payne rejected that there should be an expectation of retaliation from Beijing, saying the foreign relations scheme did not target any one country, like China.
"I think Australia is operating in our national interest; we are very careful and very considered in that approach," she said on Thursday.
Payne said the scheme was about ensuring consistency across all levels of government across the country when it comes to foreign relations.
Around 1,000 arrangements were examined, but so far, the only four that were deemed inconsistent with Australia's foreign policies were between the Victorian Premier Daniel Andrews' state government and China, Iran, and Syria.
"These are the first notifications under the scheme. They don't just go to China, of course," Payne said.
The foreign minister said Australia was asking the world to respect its decision-making authority, saying the federal government will not move away from its principles about protecting and advocating for Australia's sovereignty and interests.
Under the new laws, which came into effect in December 2020, states, territories, local governments, and Australian public universities must notify the foreign affairs minister of existing and proposed foreign arrangements.
Former Labor leader Bill Shorten, who previously supported the Victorian premier signing up to the BRI, now agreed the Morrison government had made the right decision.
"We wouldn't have signed the arrangements either if we were in government," Shorten told Nine's Today show on Thursday.
He went on to say that the Morrison government needed to take control of Australia's relations with Beijing, noting that the country had become more dependent on China.
Going forwards, Shorten called for more trade diversification, saying, "We've got other countries we're dealing with, not just China."