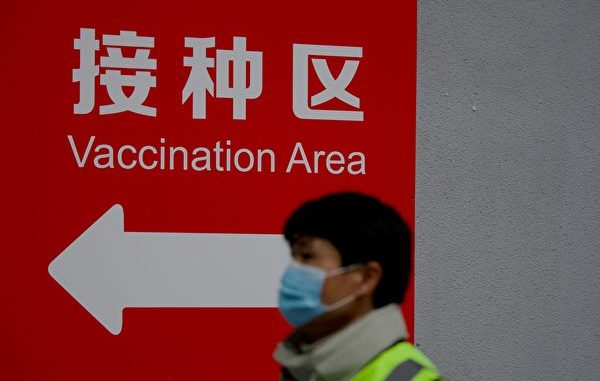 Recently, The Epoch Times obtained some internal documents from a trusted source from provincial and municipal governments in China about adverse reactions to Chinese-made COVID-19 vaccines that revealed various adverse reactions, including a fully vaccinated individual continuously showing positive results in COVID-19 infection tests.
One of the documents is the "Notice on Further Strengthening the Safety Management of COVID-19 Vaccination" issued on April 6 by the office of Hebei provincial government's Leadership Team for Epidemic Response. It revealed that the "suspected group vaccination adverse reactions [include], death, and severe disability of the recipients."
The document is marked as "extra urgent and non-disclosure to the public." It requires government agencies to "strengthen the monitoring and handling of the adverse reactions that would have a major negative impact on society."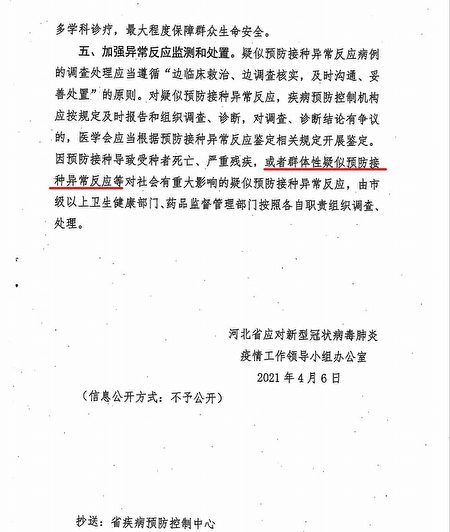 Another internal document obtained by The Epoch Times is the "Statistical Table of Adverse Reactions of COVID-19 Vaccines" from Laishui Community Health Service Center of Laishui County at Baoding City in Hebei province. The document issued on April 8 shows that after being injected with the Chinese-made vaccines, local people have experienced various adverse reactions, such as rashes, fever, nausea, diarrhea, chest tightness, and shortness of breath.
The "Request for Consultation with Provincial Experts on a Resident Surnamed Sui" issued by the office of Baoding municipal Leadership Team for Response to the Epidemic on March 3 recorded a case of a local resident who was quarantined by the authorities for 47 days after he was fully vaccinated.
According to the document, Sui, a resident in Lianchi District of Baoding city had received two doses of a Chinese-made vaccine in December 2020. Afterwards, he traveled to Germany in January. When he returned to Baoding on Jan.11, 2021, he was put under centralized quarantine.
The document revealed that Sui had undergone COVID-19 comprehensive tests five times during quarantine, which covered blood routine, CT, blood serum, and nucleic acid tests. His IgM antibody in the blood serum test was positive every time. As a result, he was kept in quarantine for 47 days and still counting, as of the date of the document being issued.
The detection of IgM antibodies is a serologic test that may suggest a relatively recent infection.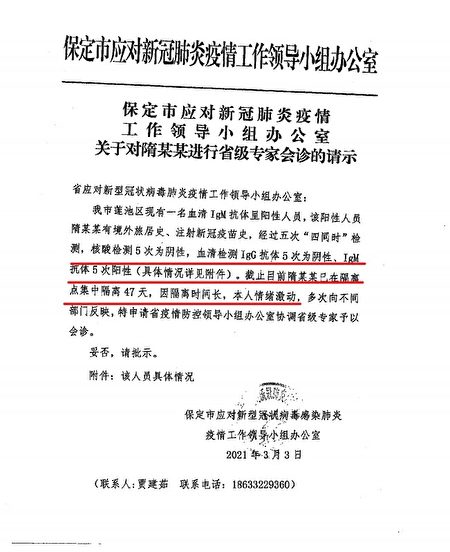 Due to the long period of isolation, Sui was "very agitated" and calling different government departments many times, according to the document. Therefore, the office of the Baoding Leadership team for Response to the Epidemic requested that provincial experts have a consultation on his case.
Regarding Sui's quarantine, a staff member of the Baoding municipal government's Foreign Affairs Office told The Epoch Times, "The policy regulates that someone who tested IgM positive must be quarantined at a centralized quarantine site, and only when it turns negative can they be released from the quarantine site."
The staff member added, "We basically have experts consult with him once a week, and the conclusion of every consultation is to continue his quarantine."
According to the experts, IgM antibodies appear in the early stages of COVID-19 human infection. After being vaccinated and in quarantine for 47 days, it is very rare that IgM antibodies still test positive 5 times.
The staff member also revealed that the experts who consulted on Sui's case said that the IgM positive result may have something to do with his vaccination. Side effects depend on an individual's physical condition. After being vaccinated, some people may be IgM positive for half a year, while others are negative.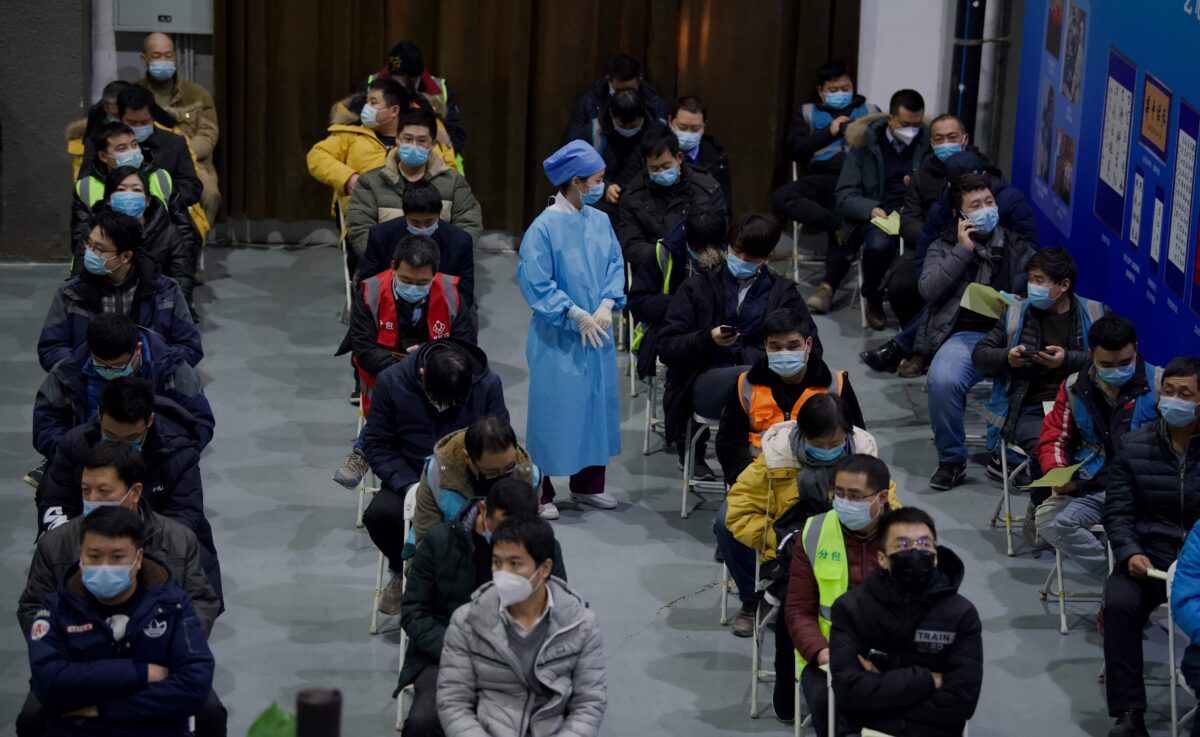 The quality and efficacy of Chinese-made vaccines have been causing concerns worldwide. China's Director of the Chinese Center for Disease Control and Prevention Gao Fu admitted at China's National Vaccine and Health Conference on April 10 that China's vaccines have "low effectiveness" and considered mixing vaccines of different technologies.
He had previously stated that a third dose may be needed for the Chinese-made vaccines to work, in response to a doctor testing positive after getting fully vaccinated, which caused a stir in the country.
Gu Qing'er and Li Shanshan contributed to this report.