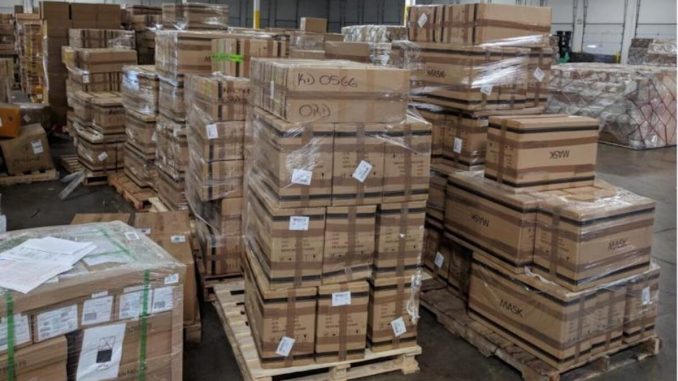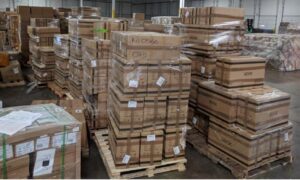 Commentary
Despite assurances that it would crackdown on counterfeit goods and intellectual property flowing from its country, communist China continues to reap billions from the sale of fake merchandise and it's now affecting an area of the U.S. economy that many would not suspect.
Multiple studies have shown that little appears to significantly stem the tidal wave of bogus goods leaving cargo ships each and every day from any number of Chinese ports of call or by mail. While most of the public focus has been on tennis shoes, luxury watches, handbags, clothes, cosmetics, cell phones and computer software, there has also been what some consider a direct attack on the financial markets through the numismatic industry.
In the past few years, I've reviewed several customers' coin collections and sadly detected one or more counterfeit coins. In one instance, the majority of one person's collection consisted of counterfeit proof Buffalo one-ounce gold coins, with all coins appearing in what looked like genuine NGC holders. The holders themselves were fraudulent.
Millions of normal circulating U.S. coins, like quarters and half dollars, as well as bullion and rare collectible coins have now been counterfeited by Chinese interests. More recently, U.S. law enforcement seized over a million dollars' worth of counterfeit circulated George Washington quarters believed to be made in China.
These Chinese counterfeit problems have been sporadically covered in the national press. Three examples:
According to Forbes in 2018, counterfeiting is the largest criminal enterprise in the world, greater than illicit drugs or human trafficking. It's expected to grow to $2.8 trillion by 2022, costing 5.4 million American jobs.
In a 2016 interview for CBS Money Watch titled "China's Largest Export Boom: Fake Gold Coins," Kathy Kristof interviewed experts, including me, on the proliferation of Chinese-made counterfeit coins being sold on the internet.
Craig Crosby, founder of The Counterfeit Report, has detected millions of knockoffs sold online on eBay, Alibaba, Amazon, and WalMart. He notes over 80 percent of all counterfeits are made in China.
Earlier this month, Major League Baseball (MLB) expanded its deal with Tencent, one of communist China's largest tech companies, to livestream MLB games in China. This is the same company that helps to limit free speech of the Chinese people and, in a show of support for dictator Xi Jinping, created a mobile game—Clap for Xi Jinping: An Awesome Speech.
In highlighting the MLB's hypocrisy on human rights, the move came at the same time it pulled the All-Star Game from Atlanta and unbelievably moved it to more voting-restrictive and less-diverse Denver, Colorado, because of a recent change in Georgia's voting requirements that seems to help ensure more fair and secure elections.
In a tweet from Sen. Marco Rubio (R-Fla.) on April 2, he stated, "Dear GOP: @MLB caves to pressure & moves draft & #AllStarGame out of Georgia on the same week they announce a deal with a company backed by the genocidal Communist Party of #China."
Rep. Dan Crewshaw (R-Texas) also brought into question support of the 2022 Beijing Olympics by President Joe Biden, stating in a tweet, "Hey Joe Biden, you gonna boycott the Beijing Olympics because of mass genocide? Or are you just into hurting Atlanta small businesses that were planning on the all-star game?"
It's well known that the online sales platform "Wish," which sources most products from China, was rife with counterfeits, yet the Los Angeles Lakers accepted $36 million (less than LeBron James' annual salary) to adorn the Lakers uniform with a large "Wish" logo for a three-year period. This comes from a league that seemingly discourages players or executives from criticizing Chinese humanitarian and labor practices or taking a stand against China's authoritarian acts to usurp a democratic Hong Kong; then there is China's alleged mistreatment of their Uyghur community.
Of course, the actions of the communist Chinese regime do not reflect on the many fine Chinese Americans and their families, some of which are my friends.
I taught counterfeit detection courses for the American Numismatic Association and served on the National Anti-Counterfeiting Task Force. My associate Jerry Jordan ordered numerous coins and bars from the Wish platform over the past two years. Thankfully, they were very cheap, but they were all obvious fakes from Chinese vendors, and all were delivered by the U.S. Postal Service. Out of many test orders, here are several examples.
There was a "Credit Suisse 1-ounce Gold Bar" costing $2 plus $3 shipping. It would have been worth $1,500 when he ordered it and nearly $1,900 today, but it's essentially worthless because it was fake. He also ordered an 1899 "Queen Morgan Silver Dolar" (sic)—that would have graded XF (Extra Fine) and been worth $140—for just $3.89 shipping. The counterfeit coin was listed at no charge. Then, he ordered a gold coin that would have been worth $10 million if it were genuine—a 1933 St. Gaudens Double Eagle—but it sold for $1.83 plus $2.00 shipping, so you can't fault them for greed. They chose some extremely valuable coins and then sold the knockoffs for a ridiculously low price. But none of these fake coins had the word "COPY" stamped on them, as is required by the updated 2014 U.S. Hobby Protection Law for counterfeits.
On March 2, 2020, H.R.6058 (dubbed the "Shop Safe Act of 2020") was introduced in the House of Representatives. It would amend the "Trademark Act of 1946" to give certain e-commerce platforms contributory liability when counterfeits are sold that pose a health risk to consumers. The key phrase is "health risk," which seems to shut coins and some other important products out of the equation, even though some fake coins and precious metals coming from China contain traces of cyanide, which could pose a significant health risk.
Counterfeit products can rob Americans of their life savings, which is an indirect health risk, or they can cause machinery to malfunction at high speed, which can cause sudden death. The Federal Aviation Administration estimates 520,000 counterfeit or unapproved parts are installed in aircraft each year, and U.S. military aircraft are reportedly "riddled with counterfeit parts," of which around 70 percent come from China.
Beyond that, however, I believe it should cover all counterfeit products, which are almost unbelievably common. Last year, the Canadian Broadcasting Company bought a random sample of dozens of products from common online platforms such as Wish, AliExpress, Amazon, eBay, and Walmart.
They found counterfeits on all of these platforms, and over half of the products they bought were fake.
Some of the health dangers included alarming amounts of heavy metals in health and beauty products. One lipstick had 751 times the amount of lead that Health Canada considered acceptable for cosmetics. As scientists have shown, lead affects one's cognitive ability, and it's especially dangerous for children.
Experts interviewed by CBC were concerned not just about the health issues related to counterfeiting.
"All of that money is used illegitimately to support other criminal activity," Lorrie Turner, legal counsel and senior vice president of brand protection for headwear brand New Era Cap Co, told CBC. "While you may think it's just an individual trying to earn money, ultimately all of that money goes toward nefarious things."
Interpol states on its website that "there is a clear link between illicit trade and other types of crime, such as human trafficking, drug trafficking, corruption, bribery and money laundering."
For our purposes, leaders in the numismatic community will work hard to see this bill is modified and reintroduced in 2021 so that it would cover counterfeit coins, most of which are made and delivered from China. Specifically, we would like to see it contain a reference to the Hobby Protection Act, as amended in 2014, to cover counterfeit coins.
Dr. Mike Fuljenz has taught counterfeit detection and anti-fraud seminars for the American Numismatic Association and the Numismatic Crime Information Center. He is recognized by the U.S. Patent and Trademark Office as "America's Gold Expert" and his expertise has led him to be utilized as a consultant for the U.S. Federal Trade Commission, the U.S. Mint, the Attorney General of Texas, and the Royal Canadian Mint.
Views expressed in this article are the opinions of the author and do not necessarily reflect the views of The Epoch Times.