Arizona Gov. Doug Ducey issued a Declaration of Emergency (pdf) and announced he's deploying the Arizona National Guard to the state's southern border to assist law enforcement dealing with the growing amount of illegal crossings.
"The situation in our border communities is just as bad—if not worse—than the coverage we've been seeing," Ducey, a Republican, said on Tuesday.
"It's become evidently clear that Arizona needs the National Guard, and the White House is aware of that. Yet, to this day, there has been no action from this administration, and it doesn't look like they are going to act any time soon. If this administration isn't going to do anything, then we will."
More than 172,000 illegal immigrants were apprehended in March along the Southwest border, a 71 percent increase over February, according to a Customs and Border Protection operational update earlier this month. In March, 18,890 unaccompanied minors from Central America apprehended, a 100 percent increase over February, the agency said.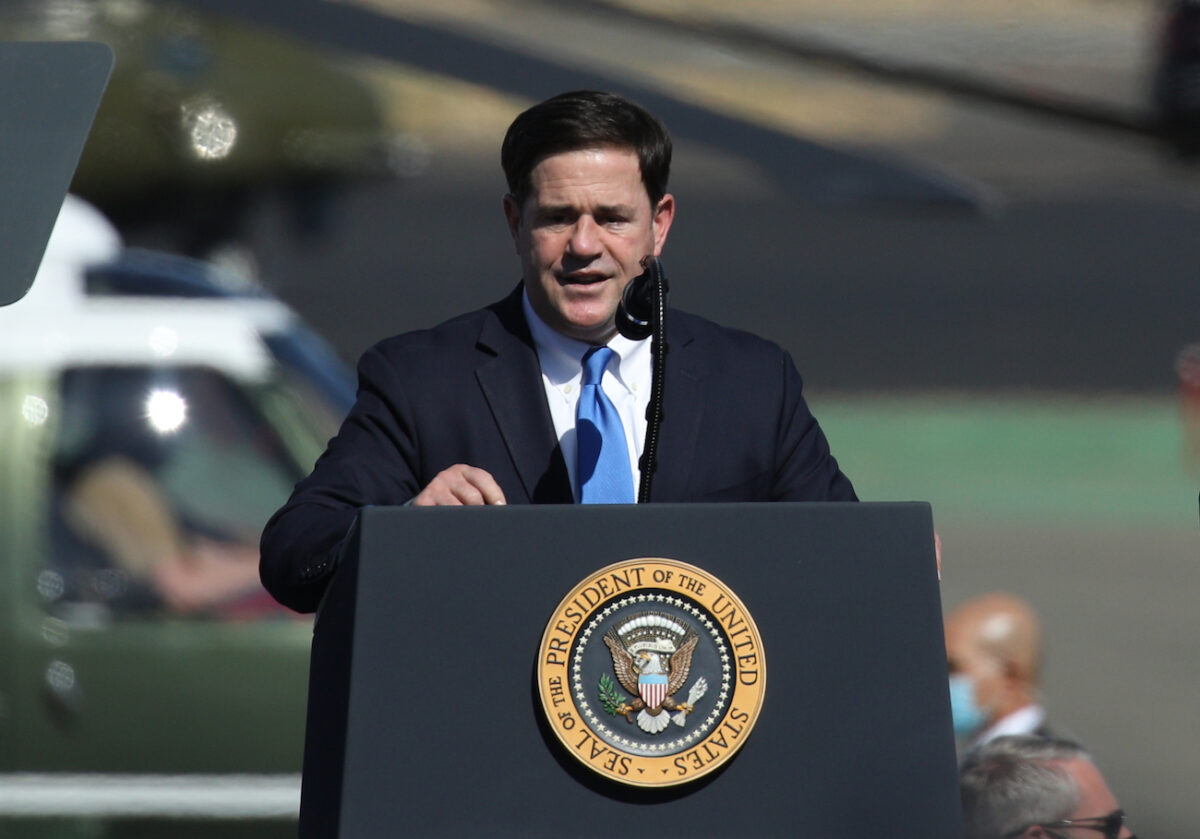 Up to 250 National Guardsmen will go to the state's border communities to support law enforcement agencies with medical operations in detention centers, the governor's office said in a news release. Up to $25 million in state funding will go to the mission.
The Guardsman will also help with the installation and maintenance of border cameras, collect data from them, as well as from satellite imagery, to looking for current smuggling trends.
"This drastic surge is a direct result of the bad policy coming out of Washington, DC. And yet, we still haven't received an adequate response from the Biden administration. It's clear that they have no plan. They can't even agree on whether this is a crisis or not," Ducey said, referring to the increase in illegal border crossings.
"One day, the President himself says it is the next day others in the administration take it back. I said last month that the Biden administration is totally divorced from reality. Now at times, it seems like they fully understand the reality, and they're putting their heads in the sand and trying to ignore it anyway."
About a month ago, the mayor of an Arizona town said he will declare a state of emergency over the border crisis.
Gila Bend Mayor Chris Riggs told Fox News he is placing the blame on the Biden administration for transporting illegal immigrants on buses to his town, noting that, particularly due to the ongoing CCP (Chinese Communist Party) virus pandemic, they don't have the necessary resources to handle the influx.
"Border Patrol let us know that they were going to be dropping migrants that had been detained for 72 hours in our town, which we really didn't understand because we have nothing here," Riggs told Fox. "We have no charity organizations that can help, no non-governmental organizations that a lot of the larger cities and towns do have to assist these people."
He said the town, which is near the U.S.-Mexico border, hasn't received any federal or state assistance and that illegal immigrants being dropped off in his town can't get food, lodging, or COVID-19 testing.