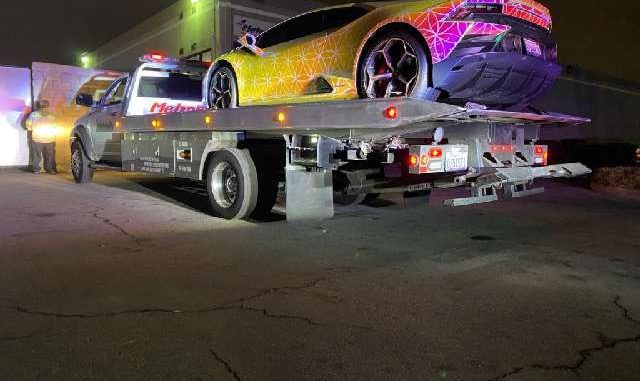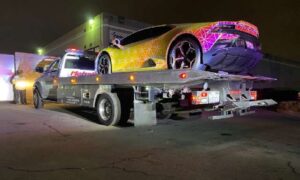 Watching a street race in Santa Ana could soon land spectators behind bars.
An ordinance set for discussion during Santa Ana's April 20 city council meeting would allow police to issue misdemeanor citations to street racing spectators. Those who knowingly attend or assist with such events would face up to six months in jail and a $1,000 fine.
As it stands, unless spectators are blocking roadways or engaging in illegal activities, they cannot be cited for attending a street racing event, Santa Ana Police Cpl. Anthony Bertagna told The Epoch Times on April 19.
Street Racing Exhibitions
Street racing in Santa Ana has led to arrests in recent months as police worked to crack down on the heavy-footed motorists.
During a single street racing bust last January, police issued 27 citations, 25 impounds, four street racing-related arrests and 40 spectator arrests.
Police have also expressed concerns about late-night street exhibitions, where hundreds of street racers and spectators gather late at night, blocking streets, intersections and sidewalks.
"The Santa Ana Police Department has experienced an increase in calls for service related to speed races and reckless driving exhibitions," said a staff report. "Drivers and spectators use social media to coordinate these events, which often result in hundreds of spectators. Although most enforcement action centers around the drivers involved in street racing and reckless driving, exhibition scenes also heavily involve spectators.
"Spectators in the hundreds come and watch these unlawful activities and typically block all sides of an intersection, virtually stopping all traffic flow."
The crowds interfere with police's ability to respond to the event, the city said, adding spectators also make it easier for involved drivers to flee.
Last summer, an Orange County Register employee was hit and killed by two cars engaged in an illegal street racing incident in Santa Ana.
The ordinance would provide law enforcement with an "effective tool" of ridding the streets of spectators so that officers can more directly stop vehicles involved in street racing, the city said.
Individuals within 200 feet of the location of a street race, and who are knowingly present spectators, can be fined.
Longstanding Tradition 
Santa Ana's street racing exhibitions typically begin on Easter, and run through the summer.
The city's street racing problem reaches back decades, when low rider cruisers with hydraulics would drive up Bristol Street, harming the quality of life for local residents, police said.
"The traditional car clubs still show up. They're more about showing off their cars … In recent history it's shifted to the street racers, where they take over intersections and do donuts," Bertagna told The Epoch Times in early April.
"Groups of people would get in the parking lots, and then often it leads to other criminal activity like drinking, fighting…shootings, and things like that."
Ramping Up Enforcement
The Santa Ana Public Works Agency previously developed a comprehensive program, Strategic Traffic Enforcement Against Racing and Reckless Driving, to deter the city's street racing and reckless driving activities.
Santa Ana is among several local police departments participating in the street racing enforcement program.
The partnership allocates resources that allows officers to prioritize calls for street racing and utilize investigative tools, such as monitoring social media for street racing activities.