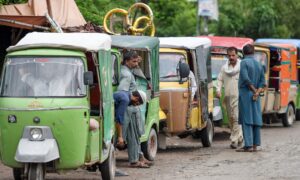 WASHINGTON—The Chinese communist regime is committing genocide against Uyghurs in China's Xinjiang region, yet Muslim countries still remain largely silent, as they have become colonies of China, according to an expert.
Beijing has set its sight on Islamic countries in the Middle East and Central Asia, as they are crucial to its Belt and Road Initiative (BRI, also known as One Belt, One Road), which seeks to revive the ancient "Silk Road."
Since 2013, the Chinese Communist Party (CCP) has made the BRI a centerpiece of its plan to grow its geopolitical influence. The initiative pours billions of dollars into building roads, railways, ports, power plants, and telecommunications infrastructure around the world.
Although China's BRI has promised to bring economic development to poor countries, so far it has introduced new colonialism, according to Abdulhakim Idris, an Islamic scholar and inspector general of the World Uyghur Congress.
Speaking at a virtual panel on April 19 hosted by the Victims of Communism Memorial Foundation and Campaign for Uyghurs, Idris said Beijing is leveraging its economic power to create a diplomatic advantage and using its political influence for security and military purposes.
"The CCP has taken over most Islamic countries," he warned.
He likened the Chinese regime to "a wolf in sheep's clothing" and accused it of hiding "its crimes with propaganda."
Idris is the author of a new book, "Menace: China's Colonization of the Islamic World & Uyghur Genocide," that exposes the extent of the Chinese regime's power over the Islamic nations and the Western world.
He said that most Islamic countries remain silent over genocide in China despite having historically strong bonds with Uyghur Muslims. These countries are following the orders of the Chinese regime and backing Beijing's position on the affairs related to Xinjiang and Hong Kong in the U.N. Human Rights Council, he said.
In January, the Trump administration declared CCP's abuses of Muslim minorities in Xinjiang "genocide." The communist regime has detained more than 1 million Uyghurs in internment camps and subjected them to forced sterilization, forced abortion, torture, forced labor, and the removal of children from their families.
Speaking at the panel, human rights experts condemned Beijing's efforts to spread disinformation about Uyghurs and exploit Islamic countries.
"China has falsely portrayed Uyghur Muslims as a threat to send them to concentration camps and deny them basic rights that millions of people have," said Nihad Awad, co-founder of the Council on American-Islamic Relations, the largest Muslim civil rights and advocacy organization in the United States.
The BRI encompasses 139 countries, including China. They account for 40 percent of the global economy and 63 percent of the world's population, according to the Council on Foreign Relations (CFR).
The BRI has contributed to a substantial external debt buildup in many of these countries and made China a major global lender. Beijing's nontransparent lending practices have come under fire in recent years, as it has amplified debt vulnerabilities in poor countries.
BRI's massive construction projects are financed mainly through Chinese local government and state-controlled institutions. The initiative has been perceived as a "debt trap," raising the risk of economic distress in borrower countries
China is the only winner in this economic welfare program, Idris said, as Chinese firms and workers are taking the lion's share of infrastructure projects in developing countries.
"You can look at Pakistan to understand what happened to those who accepted this colonial order," Idris said. "Pakistan's Prime Minister Imran Khan has admitted that the future of his country's economy is now dependent on China."
The China-Pakistan Economic Corridor, a collection of infrastructure projects in Pakistan valued at $62 billion, caused a balance of payments crisis in the country, necessitating a bailout program from the International Monetary Fund.
According to Idris, Beijing is also exporting its repressive regime mainly to the Islamic governments of Central Asia and the Middle East.
Speaking at the virtual panel, Andrew Bremberg, president and CEO of the Victims of Communism Memorial Foundation, said the Chinese regime could also be exporting its abusive labor practices to the BRI countries.
"The labor practices that China is engaged in many of these BRI countries do not comport with normal standard labor law, labor protections," he said.
A recent report sponsored by the Council on Foreign Relations stated that an inadequate U.S. response to China's BRI has contributed to China's rise in emerging markets.
"U.S. inaction as much as Chinese assertiveness is responsible for the economic and strategic predicament in which the United States finds itself. U.S. withdrawal [from the competition] helped create the vacuum that China filled with BRI," the report stated.