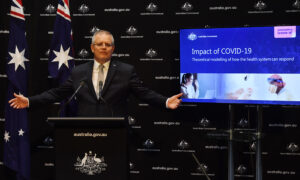 National Cabinet has agreed to make a number of changes to Australia's COVID-19 vaccination program, including options to bring forward vaccinations to those over the age of 50.
"National Cabinet agreed in principle to a series of changes to the Australian COVID-19 vaccination strategy that will be put forward for approval at the next meeting of National Cabinet (on Thursday)," Prime Minister Scott Morrison said after a meeting with state and territory ministers on April 19.
Preparing mass vaccinations sites are among the proposed changes to be discussed on April 22.
Morrison said that vaccinating vulnerable groups under phase 1a and 1b also remains a priority, with general practice as the primary model of the rollout.
Additionally, medical advice remains that the "AstraZeneca COVID-19 vaccine is safe and recommended for Australians over 50 years old and all states will continue to be prioritised AstraZeneca for Australians over 50 years old," Morrison added.
This statement comes days after the Vaccine Safety Investigation Group (VSIG) found a "likely linked" correlation between the death of a 48-year-old NSW woman who had blood clotting after being inoculated with the AstraZeneca vaccine and the vaccine itself.
The prime minister had cautioned the public in "making conclusions" while authorities were still investigating the case.
Nonetheless, the federal government did update the medical advice earlier this month around the AstraZeneca vaccine stating it was not preferable for people under 50 due to the risk of a rare blood clot disorder.
Vaccine Rollout Continues to 'Expand'
Australia is currently vaccinating people under phase 1a and 1b of the program, which includes frontline health care workers, quarantine workers, aged care and disability care residents, and those aged over 70.
But Phase 2a is expected to be brought forward towards the end of the year.
"Australia's COVID-19 vaccine rollout continues to expand," Morrison said. "The number of administration sites continues to expand with 4,500 general practices, general practice respiratory centres and Aboriginal health services now administering COVID-19 vaccinations."
But federal Labor spokesperson Mark Butler said there were serious issues with the flow of vaccine supplies, which needed fixing.
"I have talked to a number of providers, big GP clinics, state clinics-they are set up to do very big numbers of vaccinations," he said.
"Some are getting 50 or 100 doses per week. That is nowhere near enough."
NSW Premier Gladys Berejiklian said that NSW has the capacity for mass vaccination hubs and urged other states to continue with the rollout.
"Given we know that there's no issue with anyone over 50 having the AstraZeneca and there is considerable supply in Australia at the moment, that we need to really crack on with it," she said.
Victoria, on April 21, will resume its rollout of the AstraZeneca shot to eligible people under 50 after it was paused on April 9 due to the blood clot issue.
Three mass vaccination sites offering the AstraZeneca vaccine will also open their doors on Wednesday to Victorians in phase 1a and 1b.
1,589,252 doses of COVID-19 vaccines have been administered in Australia so far.
AAP contributed to this report.