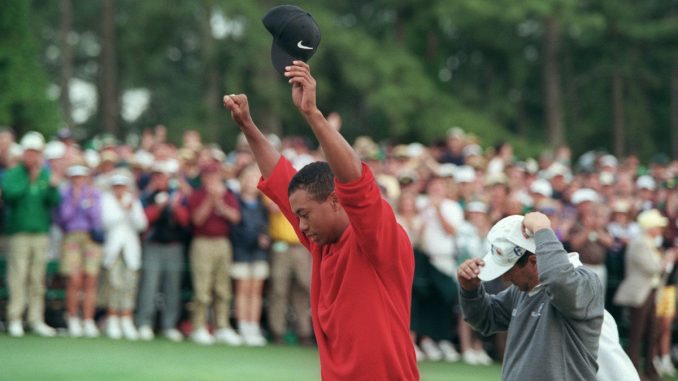 On April 13, 1997, 21-year-old Tiger Woods wins the prestigious Masters Tournament by a record 12 strokes in Augusta, Georgia. It was Woods' first victory in one of golf's four major championships—the U.S. Open, the British Open, the PGA Championship and the Masters—and the greatest performance by a professional golfer in more than a century. It also made him the youngest golfer by two years to win the Masters and the first person of Asian or African heritage to win a major.
Eldrick "Tiger" Woods was born in a suburb of Los Angeles, California, on December 30, 1975. The only child of an African American father and a Thai mother, Woods was encouraged from infancy by his father for a career in golf. At the age of two, he teed off against comedian Bob Hope on television's Mike Douglas Show. At five years old, he was featured on the television show That's Incredible. At age eight, Woods won his first junior world championship, and in 1991, at age 15, he became the youngest player ever to win the U.S. Junior Amateur Championship. He also captured the 1992 and 1993 Junior Amateur titles, and in 1994 accepted a scholarship to attend Stanford University. That year, he came from six holes behind to win the first of his three consecutive U.S. Amateur championships. He was 18 years old and the youngest Amateur champion in history.
In 1995, Woods played the Masters, his first professional major championship. The Augusta National Golf Club, which runs the Masters, had not let an African American join its ranks until 1991. Woods finished 41st in his first Masters appearance. In 1996, he won the collegiate title. By this time, he was already attracting considerable media attention and attracting throngs of new fans to the sport. After claiming his third U.S. Amateur title, Woods left college and turned professional in August 1996. Playing as a pro in eight Professional Golfers' Association (PGA) events in 1996, he won a title and was named the PGA Tour's outstanding rookie. In December 1996, he was celebrated by the magazine Sports Illustrated as its "Sportsman of the Year."
In professional play, most of Woods' opponents were in their late 30s or early 40s. At 6'2″ and 155 pounds, he was slender and athletic, and had developed a devastating swing that routinely allowed him to hit drives of more than 300 yards. He also had a reputation for mental toughness and was a superb putter and chipper. In April 1997, all these attributes came together for the most decisive victory in the Masters' 44-year history.
His margin of victory–12 strokes–was the largest in the 20th century, and second only to Old Tom Morris' 13-shot margin at the 1862 British Open. His score of 18-under-par 270 broke Jack Nicklaus' 32-year-old Masters record of 17-under-par 271. 
By June 1997, Woods was ranked number one in the world. In 1999, he won eight PGA tournaments, earned a record $6 million, and began a winning streak that eventually tied Ben Hogan's 1948 streak, the second longest in PGA history. In June 2000, he won his first U.S. Open title, shooting a record 12-under-par 272 to finish 15 strokes ahead of his nearest competitors. It was the greatest professional golf performance in history, surpassing even his 1997 Masters' triumph and Old Tom Morris' 1862 showing. In July 2000, he captured the British Open, and in August the PGA championship. At the age of 24, he was the youngest player ever to win all four major golf titles and just the second to win three majors in a year. On April 10, 2005, he earned his fourth green sport coat at Augusta National, becoming the first person to win four Masters before age 30.
Wood's winning pace slowed around 2004, when he devoted time to reworking his swing and rehabilitating his surgically repaired knee. It was also during this period that he married Elin Nordegren, a Swedish former model who would become the mother of his two children. Woods was back in top form by 2005, winning his 10th major. His performance fluctuated throughout the rest of the decade as he struggled with a torn ACL and personal problems that garnered substantial media attention: In late 2009, in the wake of events surrounding a car accident outside Wood's Florida home, several women came forward claiming to have had affairs with the famous golfer. Nordegren divorced him in August 2010, just as Woods began his first winless season in his career. 
After dropping from the international rankings, Woods' career started rebounding in 2013. He won the Masters Tournament in 2019, his first major championship win in eleven years.