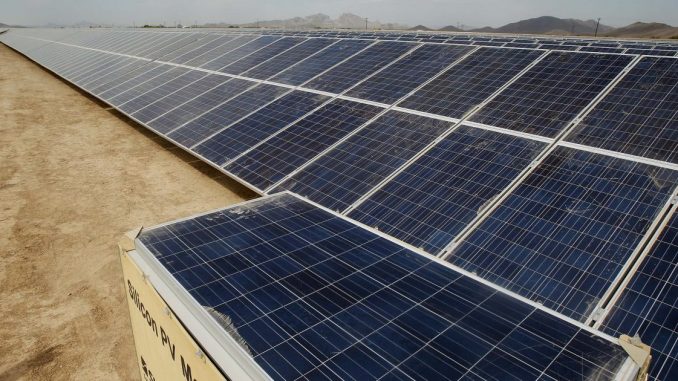 OAN Newsroom
UPDATED 7:20 AM PT – Friday, April 9, 2021
Joe Biden is barreling full-steam ahead in transitioning the U.S. to green energy, but his efforts are hitting a humanitarian roadblock. A Washington Free Beacon article, released Thursday, shed more light on how China's embattled Xinjiang region "dominates" the world's solar energy supply chain.
How? Polysilicon, a material used to manufacture solar panels, is rich in the region. This area is also home to China's alleged forced labor camps for Uighur Muslims. In fact, nearly half of the global supply of polysilicon is sourced there.
A report by consultancy firm Horizon Advisory found at least five of China's largest solar energy companies show evidence of using at least some forced labor. It's causing lawmakers on both sides to pump the brakes on the push to go green. They have cautioned that using solar products made in China means potentially capitalizing off that forced labor, thereby making the U.S. complicit in Beijing's human rights abuses.
The Democrat president of the AFL-CIO (American Federation of Labor and Congress of Industrial Organizations) union, Richard Trumka who is a long time Biden loyalist and major donor to multiple Democrat campaigns in 2020, sent a letter to Biden in March in which he urged the White House to block solar imports from Xinjiang. In the letter, he said those companies display "convincing evidence of systematic forced labor."
That same month, Oregon Sen. Jeff Merkley (D) pushed the Solar Energy Industries Association to ban products from Xinjiang, in his words, to "protect consumers from inadvertently contributing to human rights abuses abroad." The association, which represents more than 1,000 solar companies, in response demanded members cease business in the region by June.
Late last month, a team of top Senate Republicans, including Marco Rubio (R-Fla.), Rick Scott (R-Fla.), Tom Cotton (R-Ariz.), Josh Hawley (R-Mo.) and Marsha Blackburn (R-Tenn.), also unveiled the Keep China Out of Solar Energy Act. This initiative outlaws the use of federal money to pay for solar products made in China.
The Chinese Communist Party is guilty of monstrous human rights violations.

The Keep China Out of Solar Energy Act would make sure American federal dollars don't fund the CCP through the purchase of solar panels, which may be made with forced labor.https://t.co/cAU9ztqVjc

— John Kennedy (@SenJohnKennedy) March 30, 2021
Congress hopes that with a diverse team of lawmakers speaking out against Chinese solar products, it will push Biden to reconsider his reliance on solar.
The criticism comes at a key time. According to The Washington Post, the brunt of Biden's upcoming infrastructure plan is meant to "turbocharge" the nations' transition away from fossil fuels and specifically speed the growth of wind and solar energy projects.