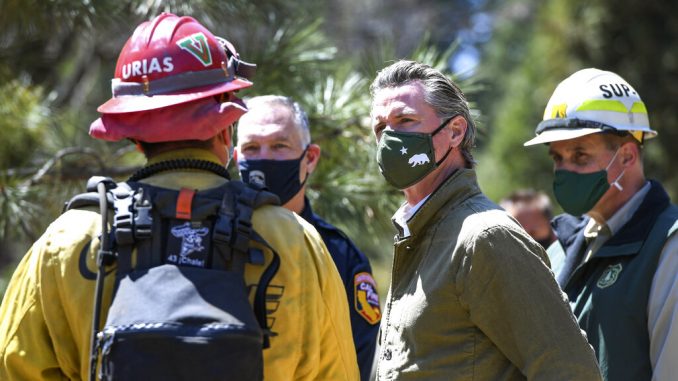 OAN Newsroom
UPDATED 7:25 PM PT – Friday, April 9, 2021
California Gov. Gavin Newsom (D) and state legislative leaders struck a deal on Thursday to put half of the state's $1 billion wildfire funding towards firefighting and a variety of preventative measures. The measures include vegetation management, construction of fire-resistant structures and new technology and equipment.
CA isn't waiting until peak wildfire season to protect our communities.

We proposed more than $1B for wildfire resilience including fuel breaks, forest health & home hardening, and today we announced a $536M early action wildfire package to help protect Californians. pic.twitter.com/SP9pkBGr3R

— Office of the Governor of California (@CAgovernor) April 8, 2021
Natural Resources Agency Secretary Wade Crowfoot said the state is taking a proactive and urgent approach to reducing the risk. He added Newsom created a task force that identified specific actions the state should take and outlined each measure in the Wildfire and Forest Resilience Action Plan that Newsom released in January.
"More resources and attention on building wildfire resilience within communities, that includes defensible space, home hardening, evacuation planning, places of refuge, infrastructure hardening," Crowfoot stated. "It also includes more investment and focus on building protection around communities."
The measure came after last year's catastrophic fire season and reports of drought conditions that have the potential to become severe.
State officials said the Sierra Nevada snowpack stood at 59 percent of its spring average.
Additionally, California allocated $80 million to hire 1,400 state firefighters in March.
The $536M Wildfire Prevention and Resiliency package is an investment that is needed now more than ever.

Every $ spent on prevention saves CA $6-7 in damage. But, this is about more than money. It's about lives, homes, and livelihoods.

Find details: https://t.co/ZLZTe4vpzK pic.twitter.com/PSSMvRHTCQ

— Senator Toni Atkins (@SenToniAtkins) April 8, 2021
"The number of inmate crews across the state of California has reduced since last year, but that is a large portion of the additional firefighters that Cal Fire is hiring for this year," Seth Brow of Cal Fire stated.
Cal Fire officials said they are working to have new crews trained by May. Meanwhile, Newsom said the vote on the $536 million proposal is scheduled for Monday.
If passed, it will go to Newsom for his signature on Tuesday.