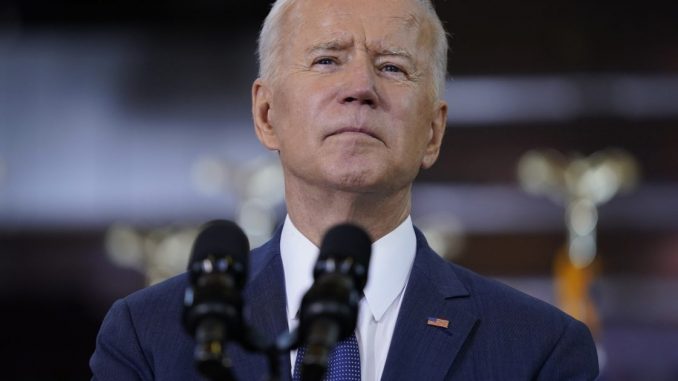 OAN Newsroom
UPDATED 9:20 AM PT – Tuesday, April 6, 2021
Joe Biden's running out of chances to show GOP lawmakers that he's ready to ditch partisanship. On Monday, he told reporters that he's ready to fight for his $2.3 trillion infrastructure bill. Republicans fear Democrats will push through the bill without their input much like they did with the massive coronavirus relief package passed last month.
Several members of Biden's cabinet have suggested he will push Democrat lawmakers to enact the budget reconciliation process to pass the bill. This would give the slim Democrat majority in Congress immense power over the bill by allowing lawmakers to pass the infrastructure plan by a simple majority.
"It's kind of interesting that when the Republicans put forward an infrastructure plan they thought everything from broadband to dealing with other things with trains were infrastructure," Biden stated.
Senate Minority Leader Mitch McConnell (R-Ky.) is leading he charge to deflate the bill and take a more moderate approach to infrastructure. Additionally, Sen. Roy Blunt (R-Mo.) proposed cutting the bill by 70 percent, dwindling the bill to around $615 billion.
Less than 6% of the Biden so-called "infrastructure plan" goes to roads and bridges.

It's really a $2.2 trillion extortion scheme.

— Rep. Lauren Boebert (@RepBoebert) April 6, 2021
Republicans across the board have criticized the bill for only putting 5 percent of its budget towards traditional infrastructure. Lawmakers claim this neglects important maintenance of roads, buildings and rural broadband throughout the country.
Instead, a large chunk of the bill's funds are allocated towards in-home care for elderly residents, affordable housing and electric vehicles. In the meantime, Biden still has to convince key players in his own party to support the bill.
Sen. Joe Manchin (D-W.Va.), a major swing vote, is pushing back against Biden's plan to up the corporate tax rate from 21 to 28 percent. Manchin noted, there's around six or seven Democrats who feel strongly about the tax hike. He believes Biden's plan could be broken up into three separate bills.