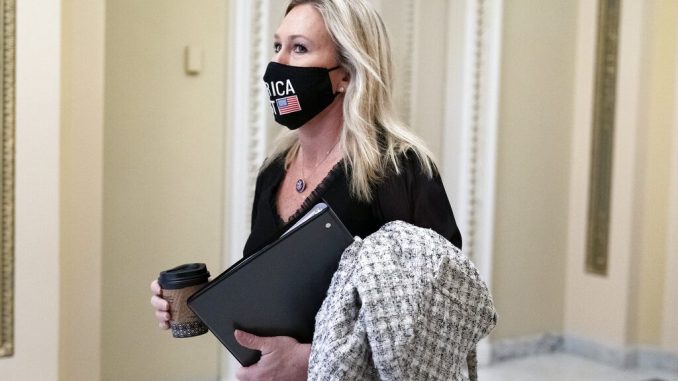 OAN Newsroom
UPDATED 11:26 AM PT – Friday, March 19, 2021
Democrats in the House are once again trying to oust Rep. Marjorie Taylor Greene (R-Ga.) for allegedly supporting political violence against the left.
Rep. Jimmy Gomez (D-Calif.) formally brought the resolution forward on Friday, suggesting Greene be expelled from Congress over her so-called controversial past comments.
I believe some of my @HouseGOP colleagues — and one in particular — wish harm upon this legislative body.

I won't watch @RepMTG threaten our democracy and do nothing.

Today, I formally introduced a resolution to #ExpelGreene ⬇️ pic.twitter.com/FBrFJtAbvU

— Rep. Jimmy Gomez (@RepJimmyGomez) March 19, 2021
Greene has been causing a stir by slowing down Democrat's far-left agenda in the House. She said liberals are trying to overturn the will of the American people, adding there's nothing Democrats hate more than strong Republican women.
Democrats have declared me Public Enemy Number One.

Tomorrow, 72+ radical Socialists are introducing a resolution to EXPEL me from Congress.

And it's all because I stand for the PEOPLE over politicians.

Text MTG to 89477 to #StandWithMTG

— Marjorie Taylor Greene 🇺🇸 (@mtgreenee) March 18, 2021
Surprisingly, House Speaker Nancy Pelosi (D-Calif.) made clear the Democrat leadership does not endorse Greene's expulsion.
"Members are very unhappy about what happened here, and they can express themselves the way they do," Pelosi stated. "What Mr. Gomez did is his own view and that is not leadership position."
The Democrat resolution targeting Greene must receive a two-thirds majority vote in order to pass.