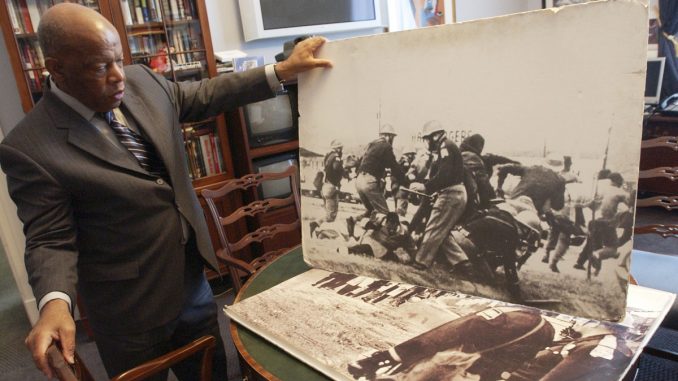 On March 7, 1965, in Selma, Alabama, a 600-person civil rights demonstration ends in violence when marchers are attacked and beaten by white state troopers and sheriff's deputies. The day's events became known as "Bloody Sunday."
The demonstrators—led by civil rights activists John Lewis of the Student Nonviolent Coordinating Committee and Hosea Williams of the Southern Christian Leadership Conference—were commemorating the recent fatal shooting of Jimmie Lee Jackson, a 26-year-old church deacon, by state trooper James Bonard Fowler. The group planned to march the 54 miles from Selma to Montgomery, the state capital. Just as they crossed the Edmund Pettus Bridge outside Selma, they were ordered to disperse. Moments later, police assaulted them with tear gas, bullwhips and billy clubs. Lewis, then 25, was one of 17 marchers hospitalized; dozens more were treated for injuries. 
The violence was broadcast on TV and recounted in newspapers, spurring demonstrations in 80 cities across the nation within days. On March 9, Martin Luther King, Jr. led more than 2,000 marchers to the Edmund Pettus Bridge. On March 15, President Lyndon B. Johnson spoke on the need for voting reform, something activists in Selma had long been fighting for: "There is no issue of states' rights or national rights. There is only the struggle for human rights. We have already waited 100 years and more, and the time for waiting is gone."
King completed the march to Montgomery, along with 25,000 demonstrators, on March 25, under the protection of the U.S. military and the FBI. The route is now a U.S. National Historic Trail. Prodded by what Johnson called "the outrage of Selma," the Voting Rights Act of 1965 was signed into law five months later, with the purpose to "right that wrong." Lewis became a U.S. congressman from Georgia in 1986; he died in 2020. 
READ MORE: How Selma's 'Bloody Sunday' Became a Turning Point in the Civil Rights Movement