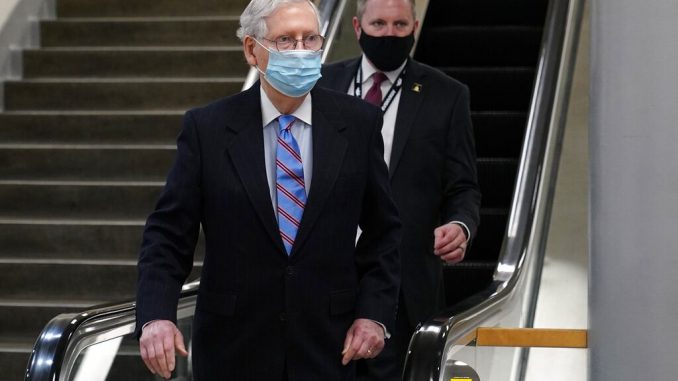 OAN Newsroom
UPDATED 5:38 PM PT – Tuesday, February 23, 2021
Senate Minority Leader Mitch McConnell (R-Ky.) condemned Democrats' approach to COVID-19 relief as "totally partisan." In a press conference on Tuesday, McConnell said the Biden administration has shown it is pretty far left across the board.
The partisan bill Democrats are preparing is stuffed with non-COVID-related liberal goals and more band-aid policies as if the country were going to stay shut down another year.

We need 2021 to be different than 2020. Congress should focus on smart policies to help that happen.

— Leader McConnell (@LeaderMcConnell) February 22, 2021
The Kentucky senator also suggested the bill is too broad in scope and spending. He added GOP lawmakers want targeted relief, as there are signs the economy is coming back.
McConnell indicated he does not expect any Republicans to join Democrats' push to pass the bill.
"They're going to try to muscle this through on a totally partisan basis, and I think I can safely speak for most of my members that we think this is dramatically more money than is required at this particular juncture," McConnell stated. "It also includes a number of things that have absolutely nothing to do with COVID relief, and so it will be controversial."
In the meantime, Sen. John Thune (R-S.D.) said Democrats were never trying to get a bipartisan deal.