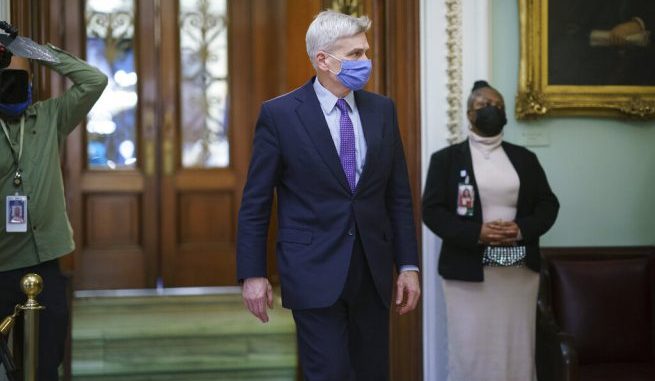 OAN Newsroom
UPDATED 10:00 AM PT – Tuesday, February 16, 2021
Nearly all of the Republican senators who voted in favor of convicting President Trump during his impeachment trial are facing censures.
Reprimand came quickly for Sen. Bill Cassidy (R-La.) who was censured by Louisiana's Republican Party shortly after President Trump was acquitted. While speaking to reporters Saturday, he claimed the President's legal team had a luck-luster defense strategy.
"President Trump's team were disorganized, they did everything they could but to talk about the question at hand," stated the senator. "And when they talked about it, they kind of glided over it almost as if they were embarrassed of their arguments."
In a Twitter post, the Louisiana Republican Party noted it condemns Cassidy's vote to convict.
We condemn, in the strongest possible terms, the vote today by Sen. Cassidy to convict former President Trump. Fortunately, clearer heads prevailed and President Trump has been acquitted of the impeachment charge filed against him.

— Republican Party of Louisiana (@LAGOP) February 13, 2021
On Monday, Sen. Pat Toomey (R-Pa.) was censured by several state GOP committee leaders in Clarion, Centre, Lawrence, Washington and York Counties.
In a statement, Clarion County officials noted the Senate's decision to convict a president who's already left office is "constitutionally infirm." They condemned Toomey's vote as "purely self-serving" and "vindictive."
In an email over the weekend, Maine's Republican Party chairman floated a possible state committee meeting later this month, where lawmakers would decide to move forward with a censure of Sen. Susan Collins (R-Maine).
Nebraska Sen. Ben Sasse (R-Neb.) is also facing a pending censure motion by the state's Republican Central Committee, though its unclear when a vote on the move would happen.
In Utah, a petition to censure Mitt Romeny (R-Utah) has been seen circulating through social media. That petition states Romney has "embarrassed the state" and accuses him of "prioritizing his personal and political vendetta against President Trump ahead of the Constitution."
Late Monday, the North Carolina Republican Party voted on censuring Sen. Richard Burr (R-N.C.).
Meanwhile, Sen. Lisa Murkowski (R-Ark.), who voted to convict, has yet to face any public censure motions. However, she's up for reelection in 2022 and pundits suspect her vote Saturday will galvanize other Republicans to run against her.