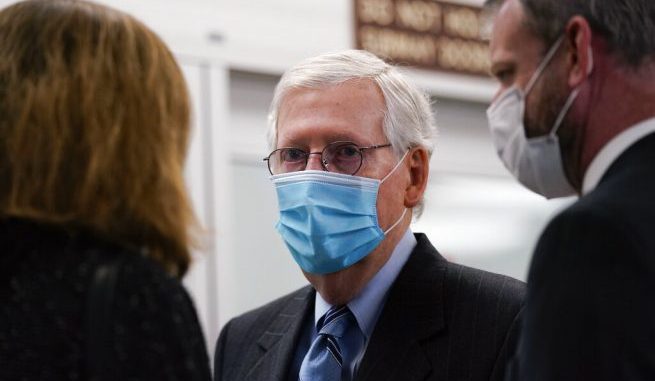 OAN Newsroom
UPDATED 11:52 AM PT – Monday, February 15, 2021
Senate Minority Leader Mitch McConnell said he's backing candidates who can win in the midterms. In a Politico interview Saturday, the Kentucky lawmaker said his goal in every way possible is to have nominees representing the Republican Party who can win.
His comments come as four Senate Republicans announced their plans to retire in 2022 instead of seeking reelection. McConnell went on to say the only thing he cares about is electability, regardless of whether the candidate is backed by President Trump.
However, it seems the 45th president remains a driving force among the GOP. Several Republicans that have launched Senate bids have been quick to highlight their ties with President Trump. This includes Senate candidate and former North Carolina Rep. Mark Walker.
In North Carolina, Chuck Schumer doesn't get to pick the next Senator, the people do.

We are building a statewide team of strong conservatives. Together, we'll take back the Senate and show Washington that the people still have a voice.

Join our journey➡️https://t.co/vcxqFDnEdU pic.twitter.com/xiQd9P8ok5

— Mark Walker (@RepMarkWalker) February 5, 2021
Walker has recently received high praise from the White House after challenging Joe Biden's win in Pennsylvania. He's looking to unseat Sen. Richard Burr in the midterms after he voted to convict President Trump in the failed impeachment attempt.
Walker has insisted North Carolina needs a real conservative in the U.S. Senate. However, his ties to President Trump could be overshadowed by speculations daughter-in-law Lara Trump is eyeing the seat.
During an interview Sunday, Sen. Lindsey Graham (R-S.C.) said Burr's vote to convict the President have made Lara "the almost certain nominee" for the Senate seat. The South Carolina lawmaker added, he'll back Lara and said "Trump-plus is the way back in 2022."