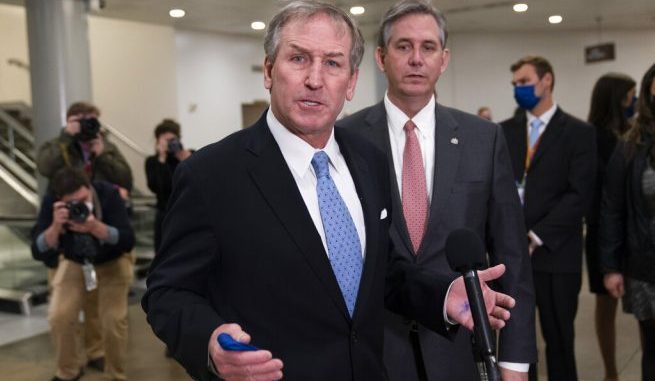 OAN Newsroom
UPDATED 7:28 AM PT – Monday, February 15, 2021
President Trump's attorney Michael van der Veen dispelled mainstream media's false claims about his acquittal. He refuted an attempt by a CBS reporter to downplay the significance of Democrat impeachment managers selectively editing evidence for the Senate trial.
"The media has to start telling the right story in this country…the media is trying to divide this country," stated the attorney. "You are bloodthirsty for ratings!"
Van der Veen noted, Democrats committed massive wrongdoing during the sham impeachment and mainstream media is covering that up.
"The House Managers are not trying a case. They're telling a political fable."

– Trump lawyer Michael Van der Veen

— Jenna Ellis (@JennaEllisEsq) February 13, 2021
"I can't believe that you would ask me a question indicating that it's alright just to doctor a little bit of evidence," he continued. "There's more stuff that we uncovered that they doctored to be frank with you and perhaps that will come out one day, but we won this case."
The attorney added, the conduct of Democrat impeachment managers was inexcusable and the media must stop siding with them.
WATCH: Michael van der Veen DESTROYED the House impeachment manager's closing argument.

"Their closing did not mention one piece of law. They didn't talk about the Constitution once. They did not talk about the First Amendment and its application…" pic.twitter.com/MMOoqhKT42

— Trump War Room (@TrumpWarRoom) February 13, 2021