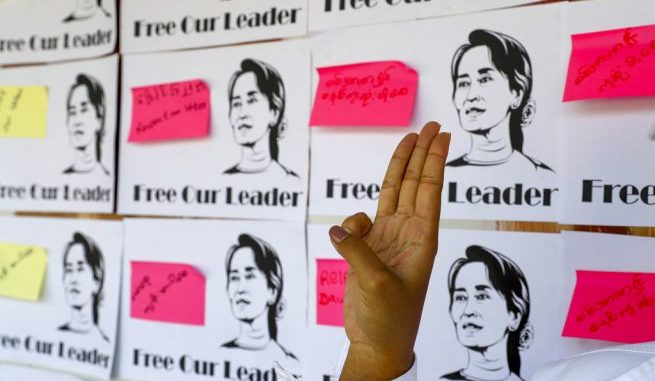 OAN Newsroom
UPDATED 10:30 AM PT – Thursday, February 11, 2021
The Biden administration slapped new sanctions on Myanmar amid a growing political crisis happening in the Burmese country. While speaking to reporters on Wednesday, Joe Biden announced the U.S. is taking a series of actions against the leaders responsible for the military coup.
"Today, I have approved a new executive order enabling us to immediately sanction the military leaders who directed the coup, their business interests as well as close family members," he stated.
The new order will block the Burmese generals from accessing $1 billion of Myanmar assets held in the U.S. with more measures to come if power is not relinquished by the military.
Earlier this month, the Myanmar military overthrew the civilian government after claims of voter fraud in last year's elections. Officials behind the coup said their cause for action is justified and they are working to investigate the fraud claims.
"Before the election, the Union Election Commission made many statements about early voting and didn't allow parties to conduct fair campaigns because of Covid-19," stated Myanmar Military Chief Min Aung Hlaing. "We are investigating the responsible authorities regarding voter fraud."
The general added, they will hold a free and fair election once the unrest subsides and the state of emergency is lifted.
Meanwhile, thousands of protestors took to the streets this week to demand the military relinquish power and release their deposed leaders. Authorities have banned citizens from using platforms until further notice, while enacting a strict curfew within the country's first and second biggest cities.
While taking note of the political unrest, other nations around the world have also denounced the legitimacy of the military-led government.
In a press briefing this week, New Zealand's prime minister, Jacinda Ardern, announced the government will be suspending contact with Myanmar. She also raises concerns about the military coup's impact on human rights.
"New Zealand is suspending all high-level political and military contact with Myanmar," announced Ardern. "We've also agreed to implement a travel ban to be formalized in the coming week on Myanmar's military leaders."
World leaders are calling for the United Nations Human Rights Council to conduct a special session as the situation in Myanmar continues to unfold.