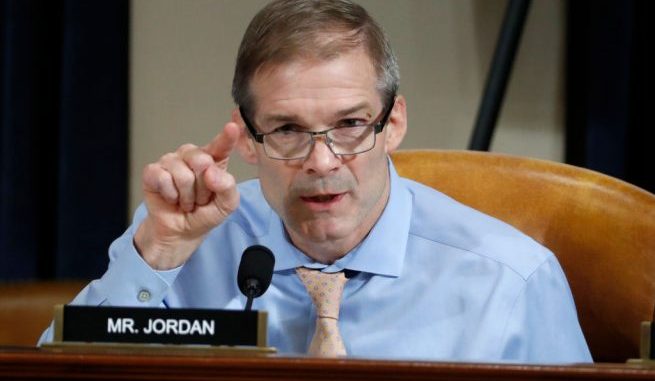 OAN Newsroom
UPDATED 12:51 PM PT – Friday, January 15, 2021
As the left-wing media continue to side with Big Tech to repress conservative thought, supporters of traditional American values are taking a stand for freedom of speech.
Speaking on the House floor earlier this week, Rep. Jim Jordan (R-Ohio) pointed out the issue of censorship extends far past the current impeachment trial and has the potential to negatively impact the lives of all Americans.
"This is more than about impeaching the President of the United States. This is about cancelling the President and cancelling all the people you guys disagree with," Jordan explained. "That's what scares me more than anything. We have seen it play out over the past several days. I never thought I'd see the things that we are now witnessing, and I don't know where it ends. But I tell you what, it should scare us all."
The Left:

-Won't let you go to church.
-Won't let you go to work.
-Won't let you go to school.

And now? They don't want you to be able to speak.

— Rep. Jim Jordan (@Jim_Jordan) January 12, 2021
The decision by several social media outlets, including Twitter, Facebook and YouTube to target President Trump's accounts for de-platforming has been a cause for celebration within left-wing circles in American society. Pundits within mainstream media have gleefully embraced the censorship of the commander in chief, arguing in numerous op-eds and reports that this is merely private companies acting within their legal rights.
This stands in stark contrast to their earlier views on the matter. The left has been all too happy to forget about the rights of private businesses when those are exercised not to suppress conservative views, but to follow the dictates of the owner's religious faith.
"Mike Pence at that signing ceremony just signed it, making Indiana the first state in the country to move overtly wholesale on purpose, to legalize and say the state approves of businesses refusing service to people on the basis of sexual orientation, or anything else your religion might encourage you to discriminate on the basis of," TV host Rachel Maddow reported on in 2015. "He just did what even Jan Brewer was smart enough to avoid doing. Mike Pence just did it yesterday and it is landing with a thud in his home state."
This particular argument, that private businesses ought to be free to engage in censorship whenever they see fit, has drawn specific rebuke from conservative commentators who pointed out that while it may technically be legal for them to do so, it is certainly not moral. In a recent op-ed, David Harsanyi, senior writer for the National Review, argued that while the First Amendment itself specifically speaks only of government censorship, free speech is not merely a legal right, but a basic value of American democracy.
According to Harsanyi, following President Trump's victory in 2016, many on the left launched a campaign to "constrict discourse and inhibit interactions among MAGA supporters by shaming and pressuring corporations that host them." This process was capped by the censorship of President Trump himself. The fact this was achieved, he concluded, could spell disaster for the future of free expression on American soil.
"The cancel culture doesn't just go after conservatives and Republicans. It won't just stop there. It will come for us all. That's what's frightening. And I hope you all recognize that," Jordan stated.