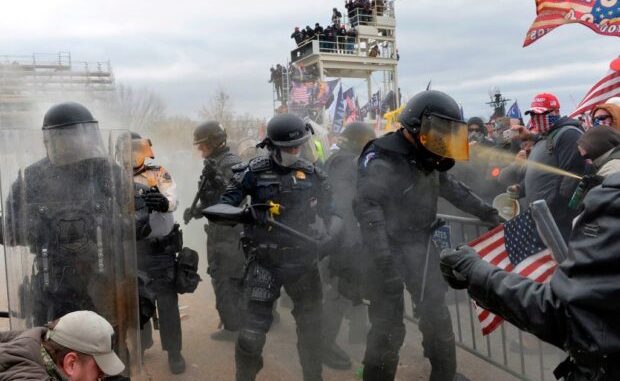 OAN Newsroom
UPDATED 1:20 PM PT – Friday, January 8, 2021
Officials launch a murder probe into the death of law enforcement officer Brian Sicknick.
In a statement Thursday, the U.S. Capitol Police announced the Metropolitan Police Department's Homicide Unit and federal partners will work alongside Capitol Police to investigate the incident.
Officer Sicknick died Thursday night after succumbing to injuries inflicted while engaging with protesters on Capitol Hill Wednesday.
Some reports allege Sicknick was hit in the head with a fire extinguisher as demonstrators breached police lines and stormed the Capitol Building. However, the official statement did not specify what caused the injuries that resulted in Sicknick's death. It only mentioned that he collapsed after returning to the Division office.
Karen and I were deeply saddened to learn of the passing of US Capitol Police Officer Brian D. Sicknick and send our deepest sympathies and prayers to his family, friends and fellow officers.

— Mike Pence (@Mike_Pence) January 8, 2021
Meanwhile, dozens of officers are reportedly injured following the violent breach on Capitol Hill. In a press briefing Thursday, White House Press Secretary Kayleigh McEnany condemned the violent actions and emphasized the administration's support of law enforcement officers.
"We thank our valiant law enforcement officers who are true American heroes," McEnany said. "What we saw yesterday was a group of violent rioters undermining the legitimate first amendment rights of the many thousands who came to peacefully have their voices heard in our nation's capital. Those who violently besieged our Capitol are the opposite of everything this administration stands for."
In the meantime, House Speaker Nancy Pelosi ordered the flag on Capitol Hill to be lowered to half-staff in honor of Sicknick.
Sicknick joined the U.S. Capitol Police in 2008 and most recently served the department's first responder's unit. His family, as well as other officers in the Capitol Police force, are asking for their privacy to be respected during this time.