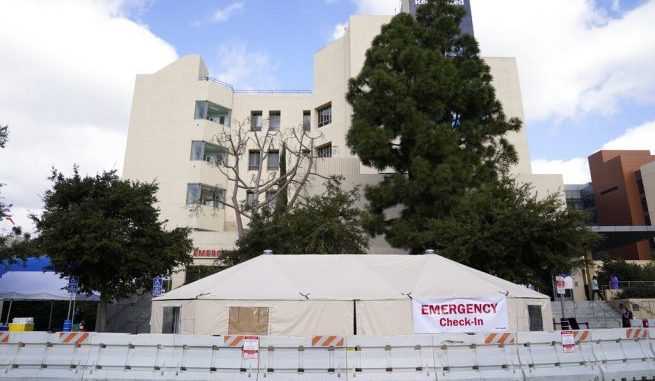 OAN Newsroom
UPDATED 5:45 PM PT – Wednesday, December 30, 2020
State officials claim Southern California's ICU capacity is at zero percent despite evidence revealing otherwise.
Gov. Gavin Newsom (D-Calif.) extended the southern part of the state's stay-at-home orders over concerns hospital beds are in short supply. On Tuesday, California Health and Human Services Secretary Mark Ghaly made the announcement. He said the order will be lifted once ICU beds reach 15 percent availability.
However, some Southern California hospitals said they have more hospital beds open than they normally do this time of year.
"We do have capacity [and] we're seeing on average about 50 patients per day, less than what we normally see this time of year," Diane Hansen, CPA and CEO of Palomar Health, said. "I think that's important for a couple reasons because while we have capacity, my biggest concern is our ability to staff beds should the pandemic surge become greater."
From @ocregister, newspeak at its finest

"The percentages here have been adjusted by state public health officials to represent the high levels of COVID-19 patients among all ICU patients. More actual beds may be available."https://t.co/dR0e4mhC7d

— Alex Berenson (@AlexBerenson) December 27, 2020
On the same day that California leaders declared an extension of the stay-at-home order, San Diego County reported that ICUs have 19 percent availability. Additionally, over 20 percent of general hospital beds remain empty and reserved for potential coronavirus patients.
According to official government data, the total hospital capacity in Orange County is at 76 percent with nine percent availability in ICUs as of December 17.
Other counties, including Fresno County, have reported slim availability for ICU beds. Local officials are setting up field hospitals for additional patients, which is similar to what hospitals did during the 2017 to 2018 flu season. However, during that time, businesses remained open and local governments did not mandate lockdowns.
According to a 2018 report from 'Time Magazine,' California hospitals said they were hard-hit and had to set up tents outside of emergency departments to accommodate flu patients. The 'Los Angeles Times' also reported hospitals were so full that there was only room for standing and many patients had to be treated in hallways.
Across the U.S., the CDC noted the number of hospitalizations exceeded the number of staffed beds for that flu season, but even then officials did not mandate mask-wearing or economic shutdowns.