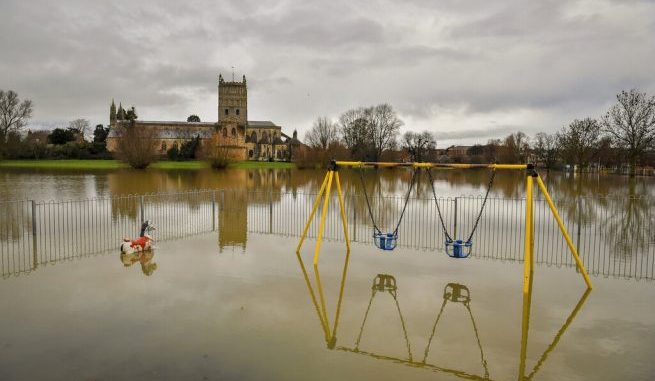 OAN Newsroom
UPDATED 11:10 AM PT – Sunday, December 27, 2020
Hundreds of Bedfordshire residents evacuated their homes following massive flooding caused by 'Storm Bella.'
According to reports this weekend, river levels are 'extremely high,' with flood warnings in the region along the 'Great River Ouse,' which is about 65 miles north of London.
Residents woke up to find parks, roads and in some cases– their homes–submerged by 'Storm Bella's' heavy rainfall. Flooding was five feet deep in some spots.
Earlier today @bedsFire were are out supporting residents in Harrold to evacuate from their homes due to flooding. For the latest Bedfordshire flood information check out; https://t.co/D4abd1tHlo pic.twitter.com/dOV9cZRn0g

— Beds Fire and Rescue (@BedsFire) December 25, 2020
"I don't think I've seen it for over 20 years I would say," a local resident said. "It's amazingly fast as well, so you wouldn't want to fall in, I don't think."
Fire crews in boats spent Christmas day rescuing residents. They saved dozens of people from their homes, businesses and stuck cars. Emergency accommodations were sourced for approximately 500 people, some of whom even showed signs of hypothermia.
"It's not exactly been the best year," another resident stated. "And it's just another thing to add to 2020 of things that are not good."
The U.K. Environment Agency has warned "flooding is imminent," as 'Storm Bella' is expected to continue to hit the U.K. throughout the weekend.
Meanwhile, the region is also under "Tier Four" coronavirus restrictions, which bans households from mixing with each other. However, authorities said the flood warnings overrule the current coronavirus restrictions. Officials also noted people are allowed to go to other households to stay safe.
Residents are strongly encouraged to turn off water, gas and electricity before evacuating to prevent additional problems.