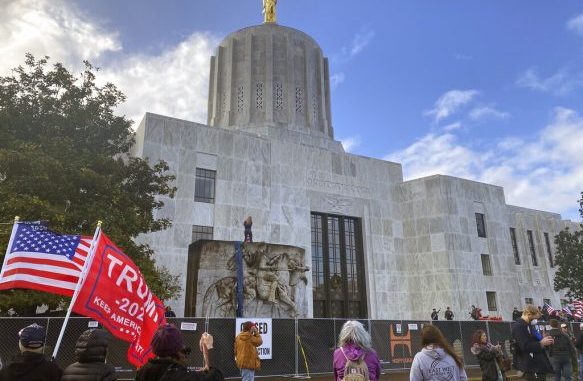 OAN Newsroom
UPDATED 6:47 AM PT – Tuesday, December 22, 2020
Oregon lawmakers are facing backlash from hundreds of patriots who protested the state's exclusion of residents from legislative sessions that were formerly open to the public.
On Monday, the opening day of the state's third special session, supporters of President Trump gathered around the State Capitol building in Salem.
A group of protestors has gathered at the @OregonCapitol. Avoid the area. Streets in the vicinity will be closed as needed. No further information at this time.@ORStatePolice pic.twitter.com/dr9OdmIVJZ

— Salem Police Department (@SalemPoliceDept) December 21, 2020
They called for entry into the legislative session that was being held inside to better voice their frustration about the state's current lockdown policies. Officials claimed the session was closed off due to COVID-19 concerns.
"We pay for this building, we pay their their salaries," one protester yelled to out the crowd. "It is our building, we need to be in there and see what the hell is going on with these Chinese traders."
Instead of responding to the protesters calls to let them in, however, lawmakers doubled down on their decision to keep their session private. Lawmakers then demanded that the police intervene, which resulted in at least four protesters being arrested.
UPDATE – OSP responds to activities at the Oregon State Capitol- Marion County- https://t.co/w1WUn0cgNa

Four people arrested and OSP is attempting to locate a fifth, Jeremy Roberts (40) pic.twitter.com/YP3GLiOyUc

— Oregon State Police (@ORStatePolice) December 22, 2020
Residents in Oregon have been criticizing the state's orders for schools and businesses to close.
One member of the state Senate, Dallas Heard (R), objected to the exclusion and called the session "illegitimate" before walking out to join the demonstrators.