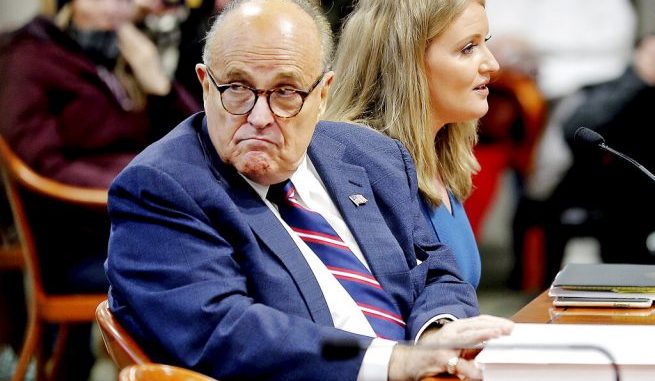 OAN Newsroom
UPDATED 10:40 AM PT – Monday, December 21, 2020
President Trump's personal attorney, Rudy Giuliani, took to Twitter on Monday to ask if Joe Biden cheated in the presidential election like he cheated his way through law school.
Let's find out,once and for all, did Biden cheat to become President like he cheated to get through law school?

PA, Ariz., GA, Michigan and Wisconsin should agree to let us
audit the Dominion machines.

What are they afraid of, if they didn't cheat?

No winner without an audit?

— Rudy W. Giuliani (@RudyGiuliani) December 21, 2020
The attorney called on battleground states, including Pennsylvania, Michigan, Georgia, Wisconsin and Arizona to allow the Trump campaign to audit Dominion voting machines.
Giuliani continued to highlight major issues with Dominion voting machines in a video message on Friday.
DISCOVERY: A 68% ERROR rate found in votes PROVES intentional fraud!

PA, AZ, GA, MI, and WI should agree to let us audit the Dominion machines. If they didn't cheat, what are they afraid of? We MUST have an audit!

Rudy Giuliani's analysis HERE: https://t.co/Ri9Q1GJMzF pic.twitter.com/FpTtVfS7bg

— Rudy W. Giuliani (@RudyGiuliani) December 21, 2020
"Our forensic experts, all with very very significant military and intelligence background, say that the machine is completely porous," he stated. "They described it like a piece of Swiss cheese. Anyone can get into it, anyone can change it. It even counts half-votes."