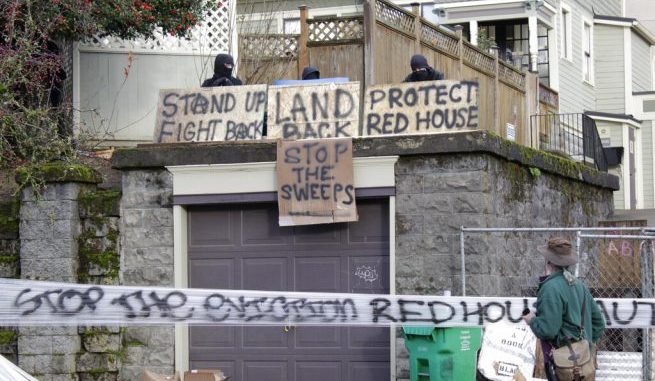 OAN Newsroom
UPDATED 1:25 PM PT – Thursday, December 17, 2020
Protesters in Portland have begun standing down after a days-long siege in the now infamous "Red House." On Wednesday, those occupying the property removed the road blocks they had erected along North Mississippi Avenue to begin letting traffic flow back through the suburb.
The antifa autonomous zone in Portland now has at least six barriers. The trespassers they are protecting at the "Red House" has received over $300,000 in donations even though they own a second house. Photo: Oregonian pic.twitter.com/91TO2kW1me

— Andy Ngô (@MrAndyNgo) December 13, 2020
Mayor Ted Wheeler (D) said this development is good news, but some local government officials are skeptical about the negotiations. One of the skeptics is state Sen. Lew Frederick (D).
"They could care less about the family or what's going on with the home," said the lawmaker "This was a way for them to sort of act out."
Frederick explained that while the initial movement may have been grounded in concern for the occupants of the house, the current protest has gotten out of hand and has been ongoing since September.
The property manager and current legal owner, Roman Oza Ruga said he's willing to work with the protesters to avoid any further confrontation. Ruga purchased the home after it had been foreclosed upon in 2018.
Meanwhile, frustrated neighbors of the "Red House" have spoken out, noting "there's no willingness from anyone in an elected capacity to do anything about this."
According to local reports, many people have reached out to provide a comment, but all were afraid to speak publicly for fear of retribution.