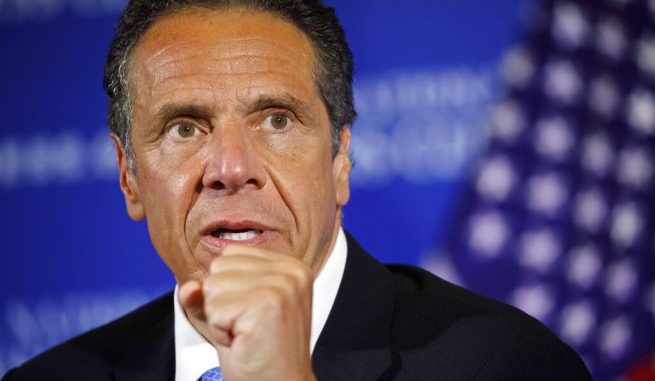 OAN Newsroom
UPDATED 10:52 AM PT – Thursday, December 17, 2020
The mainstream media has faced backlash for not reporting on sexual misconduct claims against New York Gov. Andrew Cuomo (D) despite their amplification of concerns against conservative Supreme Court Justice Brett Kavanaugh.
In an interview Wednesday, media critic Jeffrey McCall criticized major media outlets over their apparent silence on sexual misconduct allegations against the Democrat governor despite "endless coverage" of similar claims made against Justice Kavanaugh.
"You are living through one of the most controversial and unpopular Supreme Court nominations ever in the history of this country," MSNBC host Rachel Maddow previously stated. "But just because it's history, doesn't mean it can't rhyme with some of the most traumatic political and cultural events we have already lived through."
Furthermore, McCall suggested mainstream media has neglected to inform the public of controversy surrounding Cuomo because it could harm the radical, pro-socialist left's growing political power.
Cuomo has been accused of sexual misconduct toward a former aid who described working with him as a "constant abuse of power and sexual harassment."
This came after MSNBC extensively covered Christine Blasey Ford's allegations against Justice Kavanaugh, whose confirmation process was delayed as a result.
Additionally, the attitude shown by mainstream media toward Kavanaugh was much different from their treatment of Cuomo, who McCall described as "the media's darling."
"As capable as he was, but without the atrocious black cloud, which will now follow him into one of the highest institutions in the land," Maddow previously stated in regards to Kavanaugh. "One that actually will divide this country for years and years to come."
Even after a full investigation did not find evidence to back up Ford's claims, media outlets such as CNN continued to call for the justice's removal.
"I was disgusted by it, I think every single American should be disgusted by it," CNN political commentator Maria Cardona previously stated. "I have to tell you, I've interviewed hundreds of victims of sexual assault. I know how hard it is for them to come forward. That woman was 100 percent, 150 percent credible."
McCall described the mainstream media as "hypocritical" and claimed major news sources are "not willing to let Cuomo's prominence be disrupted."
Through intense coverage and harsh rhetoric against Kavanaugh, mainstream media appeared to set a standard of intolerance for claims of sexual misconduct. Now that claims are being made about a Democrat, however, that standard appears to have been forgotten.