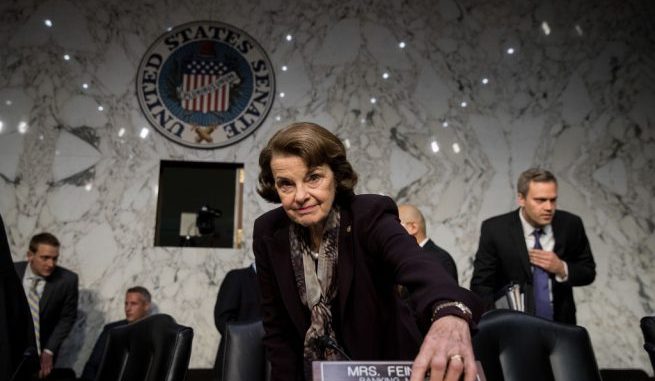 OAN Newsroom
UPDATED 3:20 PT – Thursday, December 10, 2020
New reports indicate the reason behind Sen. Dianne Feinstein's (D-Calif.) resignation as the top Democrat on the Senate Judiciary Committee was cognitive decline.
According to an article by the 'New Yorker,' a few senate staffers reported Feinstein's short-term memory has deteriorated in the last year. They added she gets upset when she can't remember or keep up with briefings.
Several sources inside the Senate say Dianne Feinstein, who is 87, struggles to remember briefings just after they take place—and that her cognitive decline has been evident for several years. @JaneMayerNYer reports. https://t.co/CfkA32S11v

— The New Yorker (@NewYorker) December 10, 2020
On Wednesday, it was also reported that Senate Minority Leader Chuck Schumer had to approach the California Democrat twice after she apparently forgot the first conversation he had with her on the issue.
Feinstein is the oldest senator in Congress at 87-years-old. Last month, she first prompted concerns over her mental fitness when she asked Twitter CEO Jack Dorsey the same question twice during a hearing.
"So here's the question: does misinformation about the results of an election and voter fraud relate to civic integrity?" Feinstein asked. "Why or why not?"
Shortly after, she asked Dorsey the question once again.
In addition, Feinstein faced ongoing criticism from members of the Democrat party for her handling of Justice Amy Coney Barrett's confirmation hearings. Progressives accused her of not being tough enough on Barrett.
In a sharp departure from the Committee's hearings for Justice Brett Kavanaugh, Feinstein applauded the Republican Chair of the Committee, Lindsey Graham, on how he conducted Barrett's hearing.
"I want to thank you for your fairness and the opportunity of going back and forth," Feinstein stated. "It leaves one with a lot of hopes, a lot of questions and even some ideas of perhaps some good bipartisan legislation we can put together to make this great country even better."
However, some members of Feinstein's' staff have defended her cognitive abilities by dismissing the situation as being over-exaggerated.
The California Democrat will remain on the Senate Judiciary Committee as a non-ranking member.
I intend to seek the top Democratic position on the Judiciary Committee in the 117th Congress. We have to roll up our sleeves and get to work on undoing the damage of the last four years and protecting fundamental civil and human rights.

— Senator Dick Durbin (@SenatorDurbin) November 24, 2020
In the meantime, Sen. Dick Durbin (D-Ill.) is set to replace Feinstein as the committee's highest Democrat leader.