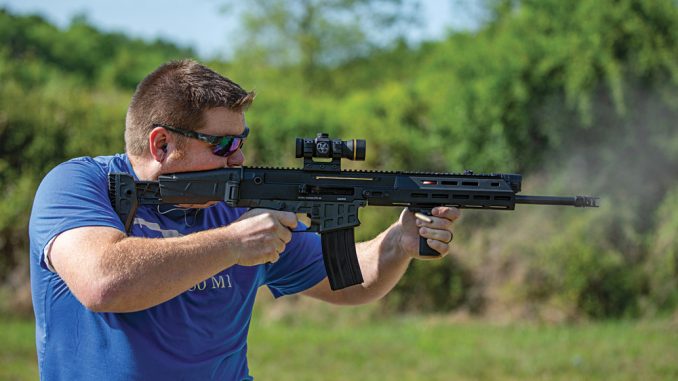 The reasons for the AR-15's popularity are legion.
First, it enjoys popularity because of its sibling's (the M16/M4) service in the U.S. military. Second, Americans love to purchase the same stuff the military uses. The added bonus is that as a result of that military use, economies of scale make parts and ammunition much more affordable for the average civilian.
Aside from its celebrity status, the AR-15 has a lot going for it on its own merits, including great accuracy, generally good reliability and exceptional modularity. The AR-15 is, by far, the easiest rifle in history to customize, whether via adding accessories, changing calibers or upgrading parts. It's the dream platform for those who love to tinker and make something truly their own.
However, the AR-15 platform is not perfect, and there are some gun owners (and that includes me) who have different preferences when it comes to a defensive rifle. Unfortunately, aside from AK-style rifles, there aren't many modern semi-auto rifle options available to the American consumer that don't fall into the AR-15 category.
Thankfully, the fine folks at CZ USA have just introduced an excellent alternative I've been waiting on for quite some time: the company's new Bren 2 Ms Carbine.
The CZ Bren 2 Ms CARBINE 
Back in 2014, CZ began selling a pistol variant of its 805 Bren S1, and the carbine version was introduced to our market almost two years later. The 805 Bren S1 was the civilian version of the company's 805 Bren, which was designed and produced to replace the legendary VZ 58 for the Czech Republic's military. While it offered excellent features and performance, there were just a few tweaks that needed to be made to make it something much better. That something better is the Bren 2 Ms.
"Thankfully, the fine folks at CZ USA have just introduced an excellent alternative [to the AR and AK] … [its] new Bren 2 Ms Carbine."
The "Ms" designation stands for "Modular semi-auto" and is appended to the Bren 2's name because of its ability to have its barrels and M-LOK forends swapped out to meet mission-specific requirements. Aside from just changing out different barrel lengths, the user can also change calibers. Currently, the Bren 2 Ms is available in both 5.56x45mm and 7.62x39mm.
If desired, the end user can change calibers by adding or removing the internal sleeve for the magazine well, swapping out the barrel, breech block assembly, firing pin and a couple of other small parts. The only negative to be found in doing this, from a prepper's perspective, is that the Bren 2 won't accept AK magazines that can be found in plentiful supply. The user will need to stock up on CZ's proprietary 7.62x39mm magazines.
"Modularity wasn't the only improvement over the original Bren S1. The Bren 2 offers much better ergonomics as well."
Modularity wasn't the only improvement over the original Bren S1. The Bren 2 offers much better ergonomics as well. The aluminum upper receiver has been significantly trimmed down to reduce weight. Additionally, the Bren 2 incorporates a carbon-fiber-reinforced lower for even more weight savings, with the rifle coming in at 7.3 pounds. The bolt catch/release was also redesigned for easier access and operation. It's similar to an AR-style paddle and can be found on the left side of the receiver.
To further improve access, especially for lefties, CZ included a lever at the front of the trigger guard that can also serve as a bolt catch/release. And yet another change from the original Bren is the user's ability to break down the bolt carrier assembly for easy maintenance and cleaning.
However, perhaps the biggest improvement is the Bren 2's non-reciprocating charging handle. The Bren S1's handle cycled back and forth during the firing process. This required careful placement of the support hand and also precluded the use of the charging handle as a forward assist. The Bren 2's new design remedies that flaw and provides a much better user experience.
CZ vs. AR
Before gauging the Bren 2's performance, it's important to understand what it is and how it actually compares or contrasts with AR-style rifles.
The first difference between the platforms is their operating systems. The Bren 2 utilizes a short-stroke, gas-piston system, while standard AR rifles use a gas impingement system.
Without getting too deep in the weeds, each system has its advantages. Because the gases in a gas-piston system aren't redirected back into the receiver, the gun will run cleaner for a much longer period of time, and the receiver will also stay cooler. This results in less required maintenance for reliable operation, at least that's the theory.
The AR has its advantages as well. Eugene Stoner's gas-impingement system is not a true direct-impingement mechanism. The AR's gases are redirected downward into an expansion chamber and cause the bolt, itself, to act somewhat like a piston. Because the bolt is in line with the bore, the recoil of an AR rifle moves in more of a straight line back to the shoulder. With a gas-piston system, you see and feel more of a rocking, up-and-down motion during recoil.
For intermediate calibers such as 5.56/.223 and 7.62x39mm, I'm personally not as concerned with the difference in recoil. I'd rather hang my hat on the system that runs cleaner longer and that requires less user maintenance. Also, the CZ Bren 2 doesn't require a recoil buffer spring in the stock as an AR rifle or pistol does. This allows CZ to ship the Bren 2 with a folding stock that can be adjusted for length of pull.
This is a nice benefit, because it brings the carbine's 36.5-inch length down to just 28 inches when the stock is folded, making it easier to store or transport in a vehicle or even in a pack. Yes, folding-stock adapters for AR rifles and pistols are available. But, in my mind, that introduces another variable into the mix that could negatively impact an AR's reliability. I'd rather go with a system that can implement a folding stock natively without monkeying with the operating system.
Finally—and this is more of a personal bias—the CZ Bren 2's charging handle is in what I consider to be a more natural and ergonomic position. To operate the charging handle on an AR, the rifle must be held out away from the body with one hand while the other hand engages the charging handle. This always seemed a little awkward to me. On the other hand, the Bren's charging handle is located up front on the left side. The user can, if necessary, keep the rifle shouldered while operating the charging handle. This might be a small thing to some but, for me, it dramatically changes the overall experience.
Even with those advantages, the Bren 2 does run behind the AR platform in one area, and that's with aftermarket accessories. Scores of companies have built their business on outfitting AR rifles and pistols with their aftermarket products; and, if it can be imagined, someone has probably already designed and built it. The CZ Bren 2 doesn't enjoy that same amount of support. Nevertheless, if you look around a bit, you'll find some companies that are already making aftermarket products for it.
One such company is HB Industries, which has enjoyed great success with its support of the CZ Scorpion EVO S3. HB currently offers a larger and more comfortable charging handle for the Bren 2. After using the one this company makes for the Scorpion, it'll definitely be my first purchase for this Bren 2. HB Industries also includes an aftermarket ACR stock that'll fit the Bren 2. Other currently available parts include triggers, disconnectors and safety selectors, although one representative said HB will be introducing a variety of new parts in the near future.
Range Time
Having already reviewed a Bren 2 Ms pistol in another article, I pretty much knew what to expect from the Bren 2 Ms Carbine when a couple of buddies and I hit the range.
Despite being a gas-piston rifle and being dressed out with a Leupold Freedom RDS for general use and a Streamlight HL-X weapon light, the Bren 2 was still relatively light and easy to maneuver as we ran our drills during the range sessions.
The ergonomics of the Bren 2 were also pretty solid, with a couple of minor caveats: The pistol grip takes interchangeable backstraps to adjust the fit for the individual user, although it can't be replaced with an AR-standard grip. However, it's very comfortable, and the angle is superb for easy access to the ambidextrous safety selectors. The five-position, telescoping stock was just as comfortable and very intuitive to operate.
The Bren 2's reliability was exceptional, with a variety of loads tried, from ball ammo to premium hollow-points from companies such as Hornady, Winchester, Federal and even some Lake City stuff. Because the Bren 2 accepts STANAG magazines (the same as an AR), we used several magazines during testing, including CZ's supplied metal mags (made by D&H Tactical), as well as some from Magpul, OKAY Industries and Lancer Systems.
No matter what combination of magazines and ammunition we used, the Bren 2 just kept on ticking along. While the Bren 2 has a three-position gas adjustment up front, we had no need to use it. Position 1 is for normal use, and position 2 is for adverse conditions, although the user manual warns against using position 2 for regular shooting conditions, because that could damage the internal components.
Gas-piston rifles don't always have the best reputation for accuracy, but there was nothing lacking in the results we got from the Bren 2. With a little testing from the bench at 100 yards with a variable power scope, we routinely shot sub-MOA groups (see the sidebar below) with the rifle's preferred loads. Granted, not all the groups averaged under an inch. Part of that was because some of the ammunition we tried was standard ball or surplus-type ammunition—not exactly match-grade stuff. The Bren 2 isn't a match rifle. It was designed to be a defensive rifle, and match-grade results aren't required. But it's a simple matter to find what loads it likes best, and then, you're golden.
A couple of key components that factored into the Bren 2's excellent accuracy was the cold-hammer-forged barrel and the crisp trigger that's quite superb for a production unit. While it had some take-up, it was very clean and drag free. The trigger broke at an average of 3.75 pounds of pull—significantly better than any production AR trigger I've tried. There was no creep at the wall and no hint of the break before it happened. (If the bit of pre-travel bothers you, the HB Industries aftermarket trigger will clean up about 35 percent of that, and it'll be ready to do business.)
The Go-to Solution
I'm not a hater of the AR platform—far from it. I have several AR-15s from companies such as Daniel Defense and LWRCI, and I've gotten great performance out of them. However, from its quality components to its stellar accuracy and its better ergonomics (at least for me), the Bren 2 Ms Carbine is everything I want in a defensive rifle, and then some.
Once I have it properly set up with a few parts from HB Industries, it'll be my go-to solution for defense at home and on the go. It's just that good!
However, with an MSRP of $1,999, it's not the cheapest alternative on the block. But, to get an AR set up for the same level of features and performance, the end user would spend close to that much in parts for a build or for a higher-end model. Even then, the AR still wouldn't have the Bren 2's core advantages (such as its gas-piston system and excellent ergonomics).
If you're looking for a top-tier sporting or defensive rifle that's a little more "outside the box," I'd strongly encourage you to give the CZ Bren 2 Ms Carbine a try. When it comes to prepping for SHTF scenarios or simply being able to defend your home or family, a high-performance, semi-automatic rifle is the backbone of a competent firearms ensemble.
If your life is going to depend on it, you'll want the very best, and the CZ Bren 2 Ms Carbine is simply one of the very best production rifles I've ever tried.
The Streamlight Advantage
For added low-light capabilities, Streamlight's new ProTac Rail Mount HL-X Laser Long Gun Light was installed. This multi-fuel offering runs on either Streamlight's USB -rechargeable 18650 battery or two CR123 batteries and throws 1,000 lumens of white light from the LED on the high setting and 60 lumens on low. With the rechargeable 18650 battery, the ProTac's light has a run time of 1.25 hours on high and 23 hours on low.
For CQB work, it also features a red laser for more precise shot placement. The unit is shipped with two tail caps, one with pushbuttons and the other comes with a cable and remote pressure switch. The ProTac has an IPX4 water resistance rating and is supplied with the Rail Grabber Picatinny mount. Made from anodized aluminum, the ProTac also comes with Streamlight's limited lifetime warranty.
Streamlight, Inc.
(800) 523-7488
Editor's note: A version of this article first appeared in the October, 2020 print issue of American Survival Guide.