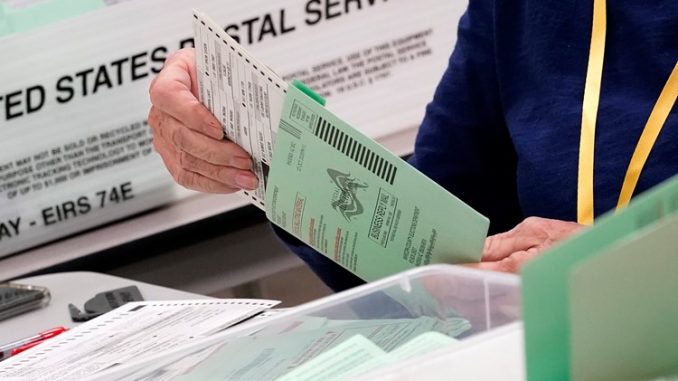 OAN Newsroom
UPDATED 11:01 AM PT – Thursday, December 3, 2020
President Trump recently shared the results of a statistical study of fraudulent votes in Arizona. In a tweet on Wednesday, the President noted a random sampling of ballots in the state has shown a 3 percent average of tainted or invalid ballots.
In Arizona, it turns out that 3% of the votes cast in the 100 count vote sampling were tainted or worse. This would be, if carried forward, approximately 90,000 votes more than we would need to win the State. Now we were granted a much larger sample to work with. Wow!

— Donald J. Trump (@realDonaldTrump) December 2, 2020
President Trump said this sampling gives Republicans around 90,000 more votes than needed to claim the state for the GOP.
Election outcomes in Arizona remain in dispute as Democrats claim a razor thin margin for Joe Biden despite evidence of mishandled ballot counts.
The study also revealed a pattern of switching Arizona votes from Trump to Biden.
"One was changed from Trump to Biden, so 2% of those ballots," stated Dr. Kelli Ward, Arizona Republican Party chairwoman. "Also this is good news because those media propagandists that say there's no evidence of fraud, can now shut up."
The President also said a court order has just granted a larger sample of ballots up for further fraud inspection.