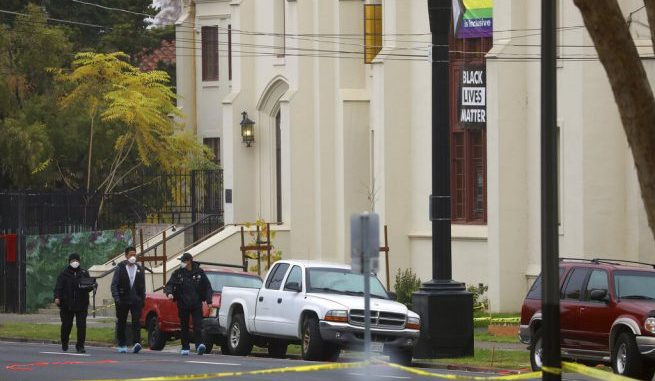 OAN Newsroom
UPDATED 9:06 AM PT – Tuesday, December 1, 2020
City leaders in San Jose, California are urging the Santa Clara County to take action after it was discovered the suspect in a recent church stabbing was an illegal immigrant who had been deported multiple times.
While speaking at press conference last week, Mayor Sam Liccardo and Police Chief Eddie Garcia appealed to officials to reconsider the counties sanctuary city policy while condemning the actions of 32-year-old Fernando Jesus Lopez-Garcia.
On November 22, two people were killed when Lopez-Garcia allegedly walked into Grace Baptist Church and stabbed five innocent people. Luckily, a responding officer was able to arrest the armed and dangerous suspect shortly after the attack.
Chief Garcia said Lopez-Garcia should have been detained by federal authorities given his violent and criminal background.
"On three prior occasions, Lopez had been deported and ultimately returned to the United States," he explained.
Authorities said the suspects long criminal history includes convictions for battery of an officer, assault with a deadly weapon and vandalism.
San Jose's sanctuary city policy currently prevents local authorities from cooperating with federal immigration authorities, which means the county did not notify ICE about Lopez.
"Currently, Santa Clara County policy prohibits responding to immigration detainors, which allow the suspects to be released," said Chief Garcia. "Suspect Lopez was also released by a judge following the same domestic violence arrest in Santa Clara despite having a violent history."
Mayor Liccardo also slammed the county's sanctuary policies by stating he couldn't understand how Lopez-Garcia was originally released despite the district attorney's opposition.
"We also cannot ignore the fact that the suspect fell through the cracks of drug treatment and criminal justice systems," stated the mayor. "Fundamentally, we need to return a more balanced approach of criminal justice…reforms must be evidence-based, must take in the rights of the accused, victims, community and above all, must make our communities safer."
This is the second time in the last year the mayor and chief have made such an appeal to the county.