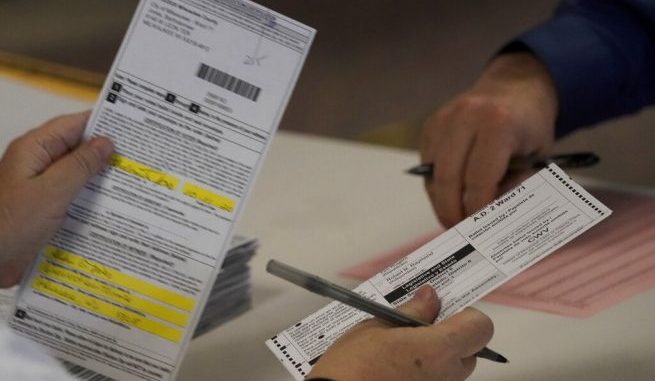 OAN Newsroom
UPDATED 8:04 AM PT – Thursday, November 19, 2020
President Trump is pointing to the latest evidence of an illegal ballot-dump in Wisconsin. In a tweet Wednesday, the President said Democrat Joe Biden received a major dump of more than 143,000 ballots on the night after the election.
He noted, the illegal dump took place in the early morning hours on November 4 when Democrats realized they were losing in the state. The 2020 Trump campaign is now mounting a legal challenge to prevent the certification of fraudulent election results in Wisconsin.
Look at this in Wisconsin! A day AFTER the election, Biden receives a dump of 143,379 votes at 3:42AM, when they learned he was losing badly. This is unbelievable! pic.twitter.com/nhiLMmyHBn

— Donald J. Trump (@realDonaldTrump) November 19, 2020
Meanwhile, witnesses of voting fraud in Detroit, Michigan have come forward to detail alleged ballot dumps in favor of Biden. In a video testimony Wednesday, poll worker Kristina Karamo said she personally witnessed spoiled and invalid ballots being awarded to Biden.
"It was like so much going on, but I did personally witness the ballots being delivered between 3 o'clock and 3:30 a.m.," she stated. "So I did personally witness ballots arriving at the time."
Karamo, who worked at Detroit's TCF Center, also said election officials did not review signatures on ballots. She added, suspicious batches of ballots were delivered to the TCF Center at night and all of them went to Biden.
Meanwhile, Sen. Rand Paul (R-Ky.) is calling for an investigation of suspected voter fraud in key battleground states.
"We need to figure out how many votes came in after the deadline and the court has ruled those are illegal," he noted. "Then if it's a significant number, we need to figure out and readjust the totals so the votes will now be illegal."
On Wednesday, the senator said the 2020 Trump campaign should check samples of 2,000 random votes for fraud and other irregularities. He added, this would allow officials to build a statistical model to prove rampant voter fraud in court.