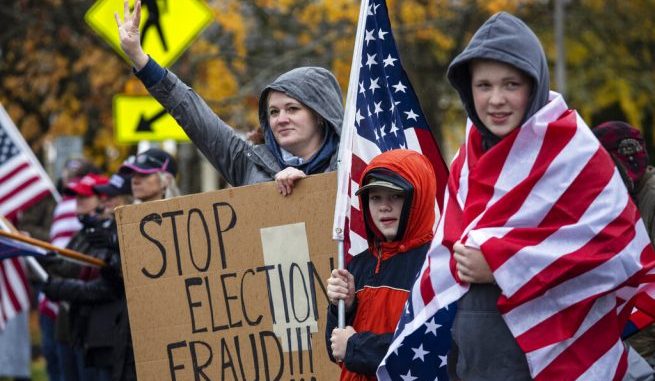 OAN Newsroom
UPDATED 1:58 PM PT – Monday, November 16, 2020
Trump supporters across the country have continued to hold 'Stop the Steal" rallies. Over the weekend, demonstrations took place in states such as Arizona, Texas, Oregon and even California.
"It can be proven, it will be proven, and that's why it's important that American's get out on the street and defend Trump," stated supporter Eric Hoffman. "And demand recounts, back this fight up to prove the vote fraud."
On Saturday, supporters in Phoenix, Arizona showed up at the Wesley Bolin Memorial Plaza to protest election fraud. The demonstration occurred as the Trump campaign launched multiple legal battles regarding voting irregularities. Among their concerns, some supporters of the President have taken issue with results changing after election night.
Thousands of residents in Dallas, Texas also protested voter fraud committed by the Democrats in this year's elections. Residents took to the streets where they championed President Trump as the winner and accused Democrat Party officials of trying to steal his win.
Protesters added, mail-in ballots and faulty computer systems allowed Democrats to switch thousands of votes to Joe Biden. They urged the President to keep fighting to ensure a free and fair election.
"Today as we stand together and make our voices heard for democracy and fair elections around the world, we make it known not only to America, but the world that we stand with our President," stated supporter Debra Gelber.
Meanwhile in California's state capitol of Sacramento, a 'Stop the Steal' rally turned violent after Antifa agitators showed up at the scene. Local authorities were able to keep the pro-Trump protesters and Antifa separate for most of the day. However, they eventually clashed. There were no serious injuries reported in the incident and at least two arrests were made.
Hundreds of Trump supporters also gathered in the Southern California city of Poway. Demonstrators called for a fair election process while the event remained peaceful.
The Department of Justice and Senate Republicans are advancing investigations into voting irregularities, which took place in key battleground states.