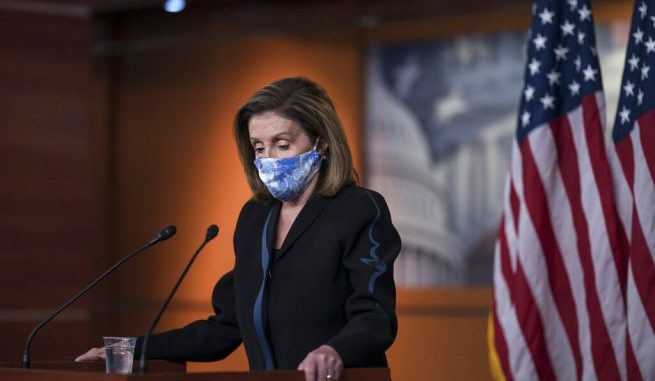 OAN Newsroom
UPDATED 11:29 AM PT – Monday, November 16, 2020
With less than two months left before the next Congress is sworn-in, lawmakers are facing a tight schedule in the coming weeks. Both chambers are now back in D.C. after the House returned to kick-off the lame duck session Monday while the Senate returned last week.
With all lawmakers now back to their normal legislative duties, they will resume work on a number of major pieces of legislation. First up on the minds of Americans still struggling with the ongoing pandemic is a fifth coronavirus stimulus package.
Lawmakers on each side of the aisle have said they want to reach a deal, but have yet to agree on a price tag. House Speaker Nancy Pelosi has expressed Democrats will not budge on their $2.2 trillion package, which has led most lawmakers to believe a deal will not be reached by the end of the year.
"It depends on Speaker Pelosi…I was very disappointed in her comments the other day, where she says she is not budging on her proposal," stated Sen. John Kennedy (R-La.). "I mean, frankly, I was appalled."
However, lawmakers are far more optimistic about the passage of a 2021 annual budget by the December 11 deadline. Additionally, the Senate Judiciary Committee is poised to launch their Big Tech hearing just weeks after the Commerce Committee's.
The committee will hear from Twitter CEO Jack Dorsey and Facebook CEO Mark Zuckerberg on Tuesday. Committee Chairman Lindsey Graham is expected to target each of the tech giants' handling of the election as well as the New York Post article on Hunter Biden.
With eyes looking to the future, the House must hold elections for party leadership in the next Congress. Republicans are slated to hold their elections Tuesday, while Democrats will elect their leaders virtually on Wednesday and Thursday.
Meanwhile in the Senate, lawmakers are looking to confirm numerous federal judicial nominations. Among them is Judy Shelton who's nomination for the Federal Reserve Board has been in limbo for months.
Majority Leader Mitch McConnell has also reportedly set up a number of votes for various federal district judges and one judge for the U.S. Court of International Trade.
Both the House and Senate will be leaving town next week for the Thanksgiving holiday.