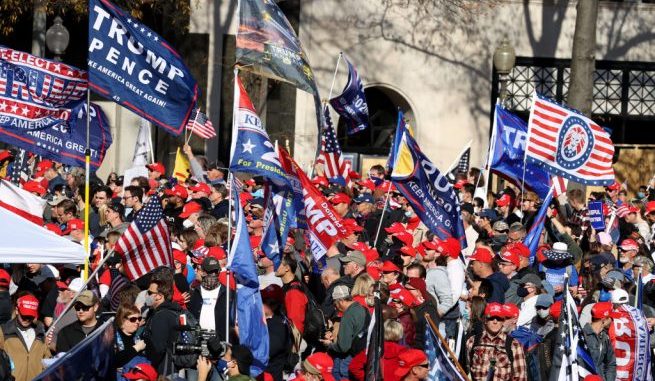 OAN Newsroom
UPDATED 12:55 PM PT – Sunday, November 15, 2020
On Saturday, supporters of President Trump stormed the nation's capital to protest allegations of voter fraud during the presidential election. Tens-of-thousands of demonstrators gathered near the White House and the U.S. Supreme Court to take part in the Million MAGA March.
"I think that as a country, we need to stand up and unite and stand together for truth and for our freedom," said a Trump supporter. "Our freedoms are being infringed."
A REAL Peaceful Protest in Washington DC @OANN @realDonaldTrump pic.twitter.com/HBgXrAEDYv

— Jenn Pellegrino OAN 🇺🇸 (@JennPellegrino) November 14, 2020
Many demonstrators waved American flags as well as pro-Trump flags that read "Trump 2020" and "MAGA country." Demonstrators in the streets stated they're preserving voter integrity.
AMAZING! Can hear you all from the West Wing Colonnade. A beautiful day in Washington, D.C. THANK YOU, PATRIOTS!! #MAGA🇺🇸🦅 pic.twitter.com/RJJ8bvYlfr

— Dan Scavino🇺🇸🦅 (@DanScavino) November 14, 2020
"I mean, it's very peaceful," President Trump supporter and Oregon resident Mark Callahan stated. "[There is] a lot of energy here and there's a lot of Trump supporters that are upset because Biden and his cronies and the radical left are trying to steal the election."
President Trump made an appearance at the event with the motorcade driving slowly to the tune of uproarious applause. Supporters hooted and hollered as the motorcade drove by, chanting "four more years" and "stop the steal."
BREAKING – President Trump has motorcade take him to the Million MAGA March in Washington DC.pic.twitter.com/U54Bwsvx9k

— Disclose.tv 🚨 (@disclosetv) November 14, 2020
After he attended the event, the President issued a tweet expressing confidence in his team's legal challenges.
We will WIN! https://t.co/MwfvhQJ5wy

— Donald J. Trump (@realDonaldTrump) November 14, 2020
"There was a lot of prayer and I believe that our country needs prayer," noted Tanya, a President Trump supporter and Manassas, Virginia resident. "Everybody needs to ask God for mercy and trust and peace because the country is very, very divided."
She added that she believes President Trump is a unifier.
The President also blasted 'Fox News' and other mainstream media outlets for appearing not to cover the Million MAGA March. He said 'Fox News' and the fake news networks aren't showing the massive gatherings in support of him.
President Trump added that instead of covering the events, 'Fox' and others have reporters standing in almost nearly empty streets. The President noted that we now have suppression by the press.
The Fake News Media hardly even discussed the tens of thousands of people that came to D.C. Formed organically, and in many parts of the Country! https://t.co/wVsDx6GeGc

— Donald J. Trump (@realDonaldTrump) November 15, 2020
In the meantime, the Trump campaign has lawsuits pending regarding election results in several key battleground states including Pennsylvania, Michigan and Wisconsin.
The campaign hopes to get the cases handed down before members of the electoral college cast their votes on December 14.