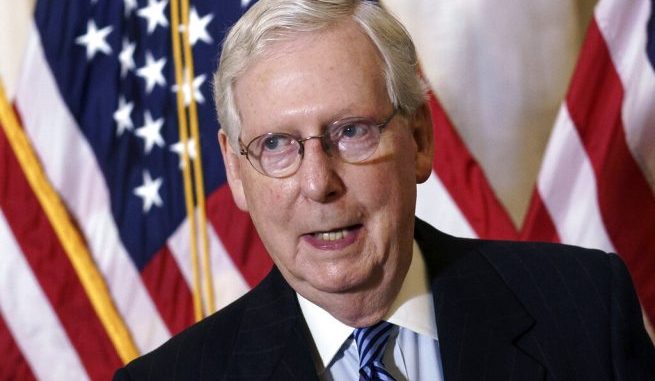 OAN Newsroom
UPDATED 10:25 AM PT – Wednesday, November 11, 2020
Amid election uncertainty regarding America's next president, GOP leadership in the Senate are urging Americans to wait for the Electoral College's final vote.
On Tuesday, Senate Majority Leader Mitch McConnell said the Electoral College has final say in who will be president. He then noted President Trump's legal challenges of the election results in several states. The Kentucky lawmaker said any presidential candidate can pursue legal action before the Electoral College's decision.
"That's not unusual, should not be alarming," he stated. "At some point here, we'll find out finally who was certified in each of these states and the Electoral College will determine the winner, and that person will be sworn in on January 20th."
McConnell claimed this will not hinder any possible process of transferring power nor any briefings of incoming cabinet members.
Meanwhile, the General Services Administration (GSA), who leads transition efforts, urged the Biden campaign to hold off on transitioning into the White House. GSA chief Emily Murphy said there is no clear winner of the presidential race. McConnell noted both campaigns don't have to go through the GSA to coordinate transition efforts.
"I don't think we're going to have an interrupted transition to whoever is the next administration," he stated. "I think we ought to quit all the hand wringing and not act like this is extraordinary, we're going to get through this period and will swear in the winner."
In the meantime, President Trump's campaign team is currently pursuing legal challenges in several states, including Arizona, Michigan and Pennsylvania.
The Electoral College is expected to cast their final vote December 14.