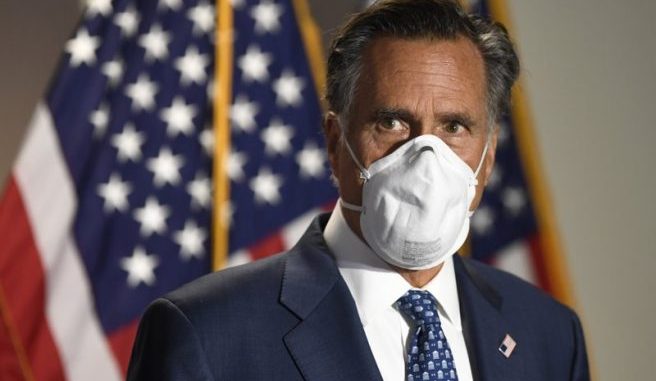 OAN Newsroom
UPDATED 9:28 AM PT – Monday, November 9, 2020
No matter the outcome of the election, President Trump is "without question the most powerful voice in the GOP." That's according to Utah Sen. Mitt Romney on Sunday.
In an interview, the Republican lawmaker said he believes in the impact of the President.
"He is without question the most powerful leader in our party, he will have an enormous impact on our party going forward," Romney stated. "I believe that a great majority of the people that voted for Donald Trump want his principles and his polices and pursuit, so he's not disappearing by any means."
Romney has notably been an outspoken opponent of President Trump throughout his presidency. Earlier this year, he was the only Republican senator to vote in favor of his impeachment.
Romney is also one of only a handful of Republican lawmakers to have conceded the election to Biden, which is a move he has come under fire for.
Ann and I extend our congratulations to President-elect Joe Biden and Vice President-elect Kamala Harris. We know both of them as people of good will and admirable character. We pray that God may bless them in the days and years ahead.

— Mitt Romney (@MittRomney) November 7, 2020
For example, South Dakota Gov. Kristi Noem responded to Romney's tweet congratulating Biden by saying, "D.C. elites are eager to return to business as usual."
However, Romney has acknowledged "business as usual" is likely a thing of the past as President Trump's impact on the party and nation continues to reverberate throughout the world.