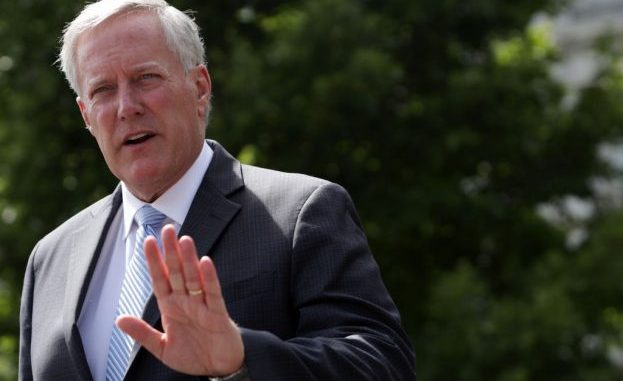 OAN Newsroom
UPDATED 3:01 PM PT – Wednesday, October 21, 2020
The White House has maintained that any progress on a stimulus package hinges on Democrat leadership in Congress.
On Wednesday, White House Chief of Staff Mark Meadows spoke to reporters and noted the President has put forward four different relief proposals.
Chief of Staff Meadows on stimulus: "The focus on Senate Republicans right now and whether the votes would be there or not is misplaced focus — it needs to be placed on Speaker Pelosi." pic.twitter.com/y0OMelVIEi

— The Hill (@thehill) October 21, 2020
He has noted while the Trump administration has been flexible in negotiations, House Speaker Nancy Pelosi has refused to budge on her requests. Senate Republicans have said that any bill would only pass if she is reasonable.
The Republican has dismissed concerns about possible opposition from GOP lawmakers in the event both sides reach a deal. He has also said his conversations with Senate Majority Leader Mitch McConnell have been robust.
"Sen. McConnell and the Senate Republicans have the same priority that the President has," stated Meadows. "That's to make sure that we get enough help to those that are hurting as quickly as possible."
The chief of staff has stated he's confident there would be enough votes in the Senate to send a bill to the President's desk. However, he added that both sides do share one goal: to get to some sort of deal in the next 48 hours or so.