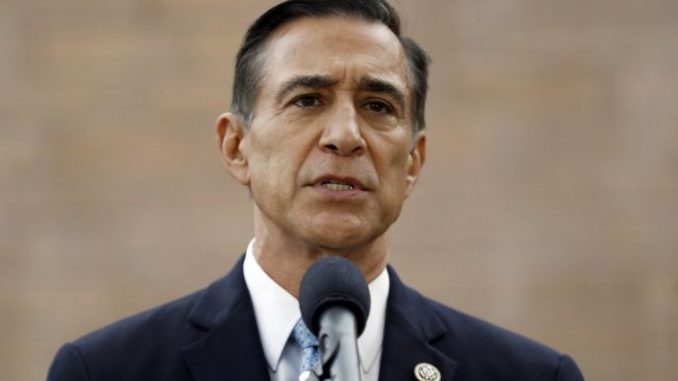 OAN Newsroom
UPDATED 12:25 PM PT – Friday, October 16, 2020
The President has thrown his support behind California congressional candidate Darrell Issa ahead of this year's election.
President Trump took to Twitter on Friday, where he gave Issa his complete and total endorsement. He has called the candidate a "warrior" who will "never let you down."
Darrell is great. He has my Complete and Total Endorsement. He will Never let you down. WARRIOR!!!! https://t.co/FB0KIHKssM

— Donald J. Trump (@realDonaldTrump) October 16, 2020
Issa grew up in a working family of Arab American immigrants and served in the U.S. Army as an explosive ordinance disposal specialist. He went on serve in Congress, where he represented various California districts from 2001 to 2019.
At one point, he was also the chairman of the Oversight Committee.
He announced his retirement in 2018, but is now looking to represent the Golden State's 50th congressional district. He expressed he is hoping to steer California away from socialism and communism.
"Socialist policies have infected all of our major cities like a disease and are now spreading into the rural areas of our state," explained Issa.
Socialist policies have turned California into a ticking time bomb

I'm here to defuse it.

Radical policies are spreading into the rural areas of our state

It's time to start fighting back & make the Golden State GOLDEN again!

Help me SAVE California ➡️ https://t.co/m5KpYEaAni pic.twitter.com/qUH1AxxOWU

— Darrell Issa (@DarrellIssa) October 12, 2020
The congressional candidate has taken a strong stance on border security and is adamantly pro-life. He also believes in the Constitution, with the goal of upholding the Second Amendment.
According to Issa, his opponent Ammar Campa-Najjar is a radical leftist who has been endorsed by socialists like Sen. Bernie Sanders (D-Vt.) and Rep. Alexandria Ocasio-Cortez (D-N.Y.).
Campa-Najjar is in favor of "Medicare for All," slashing military spending and the Green New Deal. The two will face off in this year's general election on November 3rd.