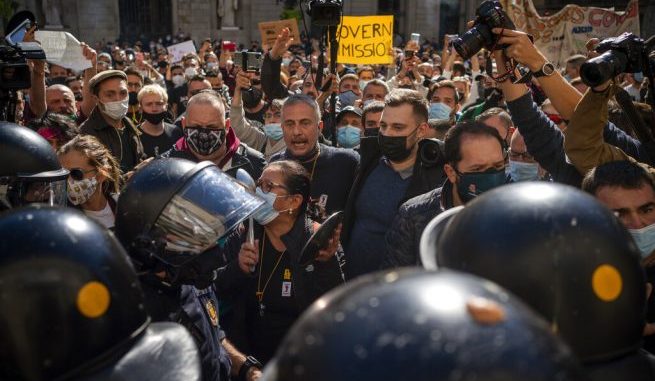 OAN Newsroom
UPDATED 12:55 PM PT – Friday, October 16, 2020
Hospitality workers in the Catalan region of Spain rallied against new restrictions on the bar and restaurant industries this week. On Friday, roughly 1,000 workers protested the restrictions in Barcelona, which were enacted in response to a spike in COVID cases in Spain.
Protesters have proclaimed people have a right to work. Some demonstrators called themselves an endangered species, while others threw eggs at the local city hall.
The new restrictions will limit bars and restaurants to takeout or delivery only. Shop and gym capacities will also be limited until at least the end of the month.
"The closing of bars and restaurants seems to be a drastic measure," stated resident Antoni Miras. "I don't think it will solve the problem, and I think it will further increase the economic crisis that we are suffering from during these times of COVID."
According to the Catalan Hospitality Association, the shutdown will hit around 30,000 establishments and cause losses upwards of more than $1 billion. Without government support, estimates have said half of Catalonia's restaurants could be bankrupt by the end of 2020.