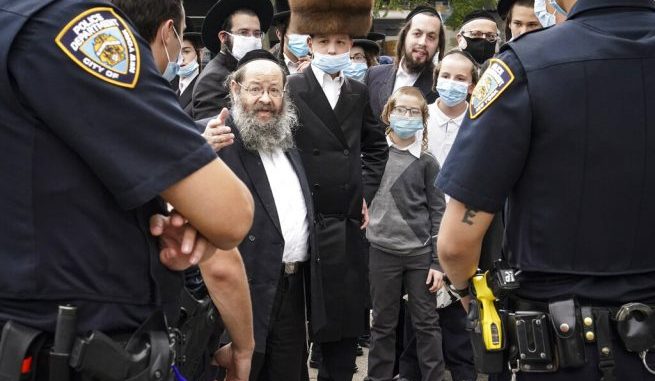 OAN Newsroom
UPDATED 9:58 AM PT – Thursday, October 15, 2020
The governor of New York has threatened to pull state funding from schools and local governments that don't adhere to lockdown orders.
During a conference call Wednesday, Democrat Gov. Andrew Cuomo pointed to multiple jurisdictions in the state, including New York City, Orange County and Rockland Counties.
This comes as New York's ultra Orthodox Jewish community has staged mass protests against strict lockdown policies put in place last week in "hot spots" that have been designated as so-called "red-areas."
The test positivity rate in the "Red Zone" focus areas is 4.84%.

The statewide positivity rate excluding Red Zones is 0.99%.

We continue to take strong action to respond to these outbreaks and to stop the spread.

Mask Up.

— Andrew Cuomo (@NYGovCuomo) October 15, 2020
Cuomo said if he could change something about his coronavirus response, he would have the state be responsible for enforcement measures and not local governments.
"On lessons learned, I would have had the state take over or hire statewide enforcement because the enforcement from the local governments is very uneven," he stated. "Especially when it's politically sensitive and that's what we're running into with a lot of these ultra Orthodox communities."
The governor stated letters will be sent to all schools in COVID-19 "hot spots," notifying them about the potential loss in funding. Cuomo said if he wants to, he has the authority to cut off all state funding to localities. The amount of money withheld has not been decided, although officials indicated it could be a significant amount.