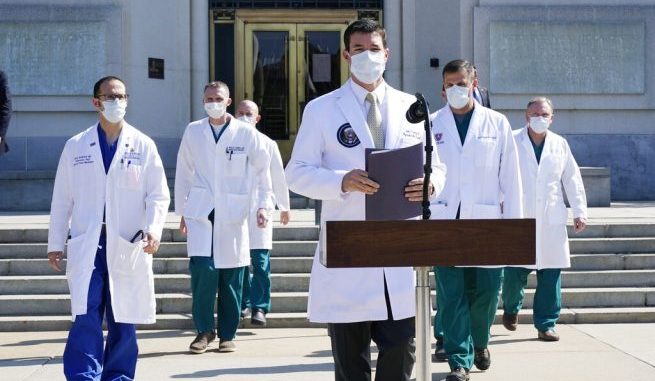 OAN Newsroom
UPDATED 11:05 AM PT – Sunday, October 4, 2020
According to President Trump's medical team, he could be discharged from the hospital and return to the White House as soon as Monday.
On Sunday, his doctors stated the President could continue his COVID-19 treatment at the White House. They reaffirmed his health has "continued to improve" and that he feels well.
WATCH: Walter Reed Medical Center Briefing on President's Condition https://t.co/9wWjYPkn00 pic.twitter.com/IWCTZF1j6t

— CSPAN (@cspan) October 4, 2020
Despite two drops in oxygen saturation over the course of his treatment, the medical team appeared to be optimistic about the President's recovery.
Doctors also confirmed President Trump has been without a fever since Friday and that his vital signs are stable.
On Saturday, the President released a video update regarding his health. He said he is "starting to feel good" and that he expects to get back to work for the American people soon.
— Donald J. Trump (@realDonaldTrump) October 3, 2020
In the meantime, President Trump's reelection team has launched a new initiative to get his message out while he recovers from COVID.
On Saturday, the campaign announced "Operation MAGA," which will deploy high profile surrogates across the country until the President returns to the campaign trail. Those who are poised to campaign on his behalf included Vice President Mike Pence, Donald Trump Jr. and Eric Trump.
"Operation MAGA will fire up the entire MAGA universe to keep President Trump's campaign at full speed until our commander in chief returns to the campaign trail," stated campaign manager Bill Stepien. "We also encourage all of the President's supporters to pick up the banner themselves by volunteering in our grassroots Army for Trump, flying their Trump flags, putting out more yard signs, and wearing their MAGA gear proudly."
The vice president is also expected to hold in-person rallies after his vice presidential debate this upcoming Wednesday.