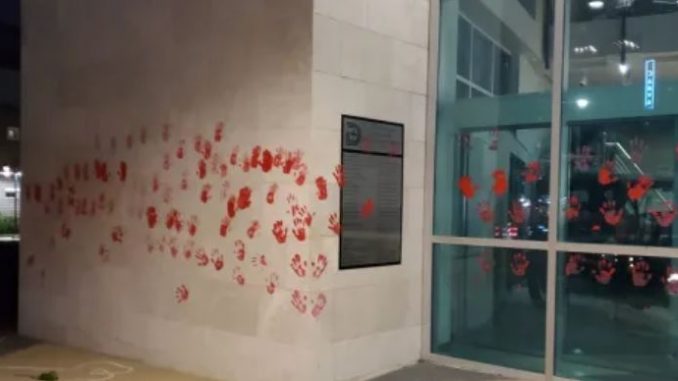 OAN Newsroom
UPDATED 12:50 PM PT – Saturday, October 3, 2020
Texas police are questioning community members following the vandalism of the Dallas Police Department headquarters.
According to investigators, the incident occurred Thursday night when protesters covered the walls and windows of the police department building in red hand prints.
Criminal Mischief at DPD Headquarters. If anyone has any information regarding this incident, please contact Detective Andrea Kunzler at (214) 670-5813. This investigation is documented on case number 175056-2020. @ChiefHallDPD https://t.co/PGjdu1uEtb

— Dallas Police Dept (@DallasPD) October 2, 2020
Shortly before the damage was discovered, a group of roughly 30 people had gathered outside the building for unknown reasons. Less than a mile away, the Dallas Police Association building was also defaced with similar markings.
Police and union leaders have since voiced their frustration over the vandalism.
"How do you have a police department, a multi-million dollar building sitting in downtown Dallas that is constantly attacked, not being monitored?" asked the vice president of the Dallas Police Association.
Dallas's mayor has since condemned the incident. He stated the action was not reflective of a peaceful protest, but instead was a blatant crime.
The building was washed and cleaned shortly after the incident. Police will continue to question community members for more information on the vandals.