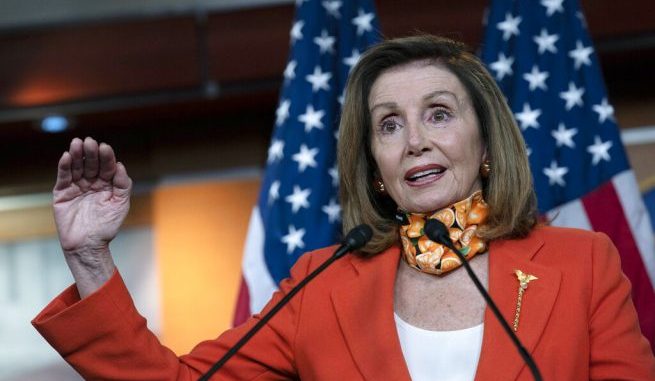 OAN Newsroom
UPDATED 10:34 AM PT – Wednesday, September 30, 2020
The top House Democrat expressed optimism after jump starting stimulus talks with the White House this week. Speaker Nancy Pelosi came off an hour-long phone call with Treasury Secretary Steven Mnuchin Tuesday with an updated timeline. She said she hopes a new deal will be struck in the next few days.
Democrats are attempting to sell Republicans and the White House on a $2 trillion redraft of their previous bill. The bill would restore the $600 weekly jobless benefits and extend the Paycheck Protection Program for small business struggling to stay afloat. It would also send another round of $1,200 checks directly to taxpayers.
"Now when we reduced it we didn't take out priorities, we just reduced the timeline as to how long those benefits would last," she stated.
There's also money for restaurants, child care centers, the U.S. Postal Service and the airline industry. While there's no formal timeline to get another stimulus package passed, federal aid for airlines expires in October. This means job cuts are imminent.
As for the White House, officials are signaling a deal is far from sealed.
"They have a new offer on the table, we don't think the numbers are right," said Larry Kudlow, Director of the National Economic Council. "$2.2 trillion, which is a very big number…there's some left over spending that's not included there and some tax cuts that are repealed."
Regardless of how talks play out, the administration is confident the nation is on the right track.
"Look, I can't predict the virus and the rest that goes with that, but we're not going to shutdown the economy," Kudlow continued. "More businesses are opening now…I think the V-shaped recovery is very much intact."
Chief of Staff Mark Meadows said they are keeping the President in the loop as the clock ticks. While it's still too early to tell if both sides will be able to compromise, it's not entirely out of the question yet.
All sides are under pressure as the House is set to begin a month-long break next week. A better sign of whether any progress is made may come after Pelosi and Mnuchin meet again on Wednesday.