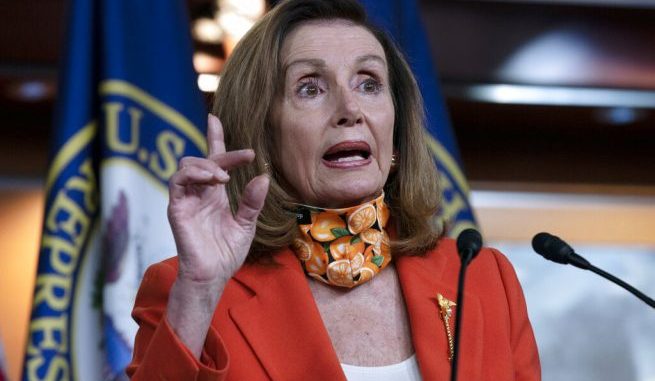 OAN Newsroom
UPDATED 11:38 AM PT – Monday, September 28, 2020
House Speaker Nancy Pelosi, the nation's leading Democrat, is reportedly preparing lawmakers for an undecided election. She sent out a letter to House Democrats Sunday, noting the especially high stakes of the November election for the House.
In the letter, she reminded lawmakers the House could potentially be called upon to make a decision in the hypothetical event there is an electoral college tie come November. A tie in the electoral college is the result of a number of scenarios such as neither candidate reaching 270 electoral votes or what's called a "faithless elector" who goes against their state's candidate.
This kind of tie would mean each state's delegations in the lower chamber would have one vote to decide who the nation's leader will become. Pelosi noted this is determined by the Constitution, which states a candidate must receive a majority of the state delegations to win.
The House's vote in this scenario would take place January 6 of 2020, which would be several days after the newly-elected Congress is sworn into power. Therefore, Pelosi called on Democrats to hone in on their campaigns in their home states to ensure Democrat control.
Although there are more Democrat lawmakers in the House, there are still more Republican delegations with a 26-to-22 majority and Pennsylvania split evenly. President Trump celebrated the GOP advantage at his rally over the weekend.
"And I don't want to end up in the Supreme Court and I don't want to go back to Congress either. Even though we have an advantage, if we go back to Congress does everyone understands that? I think it's 26 to 22 two or something because it's counted one vote per state. So we actually have an advantage. So they're going to be thrilled to hear that."
In some states, even a single seat can determine a delegation's party. This makes the balance especially delicate. Although this situation has not occurred since 1876, Pelosi has reportedly brought up concerns over the matter a number of times in recent weeks in a scheme to expand Democrat power.
In conclusion, Democrats must either achieve the majority of delegations or at least prevent Republicans from obtaining it if they are to exercise their raw power to push Joe Biden into the presidency.