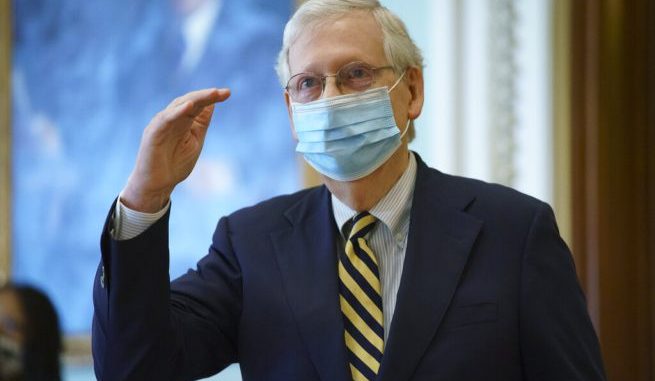 OAN Newsroom
UPDATED 11:01 AM PT – Thursday, September 24, 2020
Tensions over the vacant seat on the Supreme Court have continued to grow on Capitol Hill. On Tuesday, Senate Majority Leader Mitch McConnell slammed Chuck Schumer by saying the New York senator was "uniquely non-credible" when it came to the Senate's role in a judicial confirmations.
McConnell also noted that Schumer was one of the driving forces behind using filibusters to block nominations and said the minority leader has said he's proud of heading the practice. The Kentucky Republican then pointed out the Senate has a constitutional obligation to vote on a nominee despite opposition from the left.
"None of them assert this majority would be breaking any Senate rule by holding this vote, it's just that our democratic friends worry they might not like the outcome," stated McConnell. "For some reason they cannot bear to see Republicans governing within the rules of Republicans, doing exactly what Americans elected us to do."
Rewarding Democrats' tactics now would not stop their attacks on our institutions. Their threats predate this new vacancy by over a year.

Their recklessness only underscores the importance that we do our job and confirm a nominee who truly respects the Constitution.

— Leader McConnell (@senatemajldr) September 22, 2020
Meanwhile, President Trump is expected to announce his pick for the open seat Saturday. McConnell delivered the following remarks on the Senate floor regarding the matter.