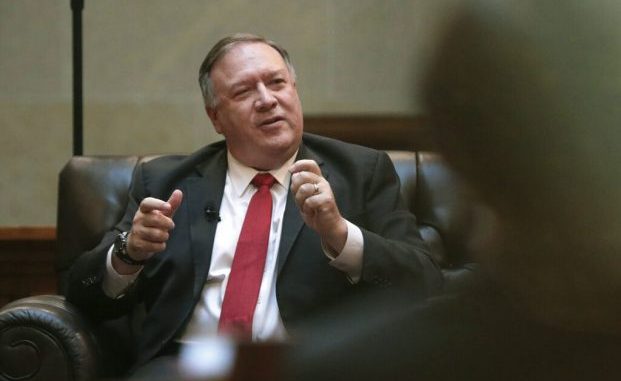 OAN Newsroom
UPDATED 9:06 AM PT – Thursday, September 24, 2020
America's top diplomat raised the alarm over the Chinese Communist Party's attempt to manipulate U.S. government officials. Secretary of State Mike Pompeo issued that warning Wednesday during an address to state lawmakers at the Wisconsin state capitol building.
While he stressed the Trump administration is hard at work to curb China's attempts at expanding its worldwide influence, Pompeo noted that the task of preventing their infiltration into American institutions requires the cooperation of officials at all levels of government.
"The federal government can't police every bit of this predatory and coercive behavior, we need your help," he stated. "…Protecting American interests requires vigilance, vigilance that starts with you and all state legislators regardless of party."
Pompeo pointed to efforts by Chinese government agents and diplomats to court the favor of state and local government officials. He urged all to remain vigilant against these attempts. The secretary of state specifically mentioned the work of two organizations: the U.S. China Friendship Association and the China Council for the Promotion of Peaceful National Reunification (CCPPNR).
While both groups are registered as non-profits in the U.S. and promote themselves as independent organizations, Pompeo said they have deep links to the Chinese United Front Work Department. This body is under the direct control of the Chinese Communist Party.
According to the secretary of state, this is indicative of Chinese infiltration tactics that hinge on opening avenues into American institutions through manipulation of officials by what seems at first glance to be innocent overtures of friendship.
Great meeting with business leaders in Wisconsin, where we had a good discussion on supply chains, trade, energy stability and more. The @StateDept is working hard to further a U.S. foreign policy that helps the American people. pic.twitter.com/H5rHtYS2rV

— Secretary Pompeo (@SecPompeo) September 23, 2020
The secretary of state's speech was met with some criticism from left-wing voices who sought to paint his warning as a blurring of the lines between diplomacy and campaigning. Yet, Pompeo made a point of stressing the task of halting Chinese attempts at infiltrating U.S. institutions ought to be a non-political priority and supported by Americans of any political party.
If this consensus can be reached, Pompeo remarked he's confident America's leadership on the world stage will be certain to triumph over the Chinese Communist Party's attempts at destabilizing the rules-based order on which international security and prosperity depend.
"There's a reason that we remain the greatest nation in the history of civilization because Beijing best laid plans are not match for American determination," he stated.