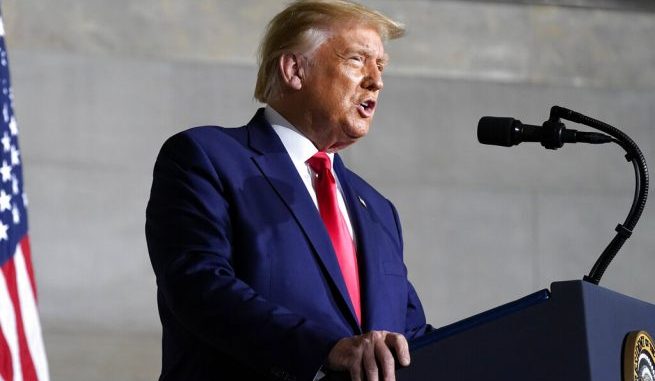 OAN Newsroom
UPDATED 9:50 AM PT – Friday, September 18, 2020
President Trump has called for the restoration of patriotic education in schools across the nation. The President announced the forthcoming program while speaking at the National Archives Museum in Washington this week.
"The only path to national unity is through our shared identity as Americans," he stated. "That is why it is so urgent that we finally restore patriotic education to our schools."
He has said America's history and heritage are "under assault from the left," who is attempting to repress traditional faith, culture and values.
"Our Constitution was the product of centuries of tradition, wisdom and experience," added the President. "Yet, as we gather this afternoon, a radical movement is attempting to demolish this treasured and precious inheritance."
"American parents are not going to accept indoctrination in our schools, cancel culture in our work, or the repression of traditional faith, culture, and values in the public square." pic.twitter.com/tKozxg7uLU

— The White House (@WhiteHouse) September 17, 2020
He went on to detail plans for a new executive order, which he said will pave the way for America's youth to proudly celebrate our nation's history. The order, titled the 1776 Commission, would direct federal funding towards creating a patriotic curriculum for schools.
"Under our leadership, the National Endowment for the Humanities has awarded a grant to support the development of a pro-American curriculum that celebrates the truth about our nation's great history," stated President Trump.
President @realDonaldTrump announced that he will sign an Executive Order establishing a commission to promote patriotic education: The 1776 Commission! pic.twitter.com/jMAsz6r9Yu

— The White House (@WhiteHouse) September 17, 2020
The move came in response to the 1619 Project, an alternative history plan introduced by the New York Times. The President slammed the project and has said it's the perfect example of "left-wing indoctrination" in schools.
"This project rewrites American history to teach our children that we were founded on the principle of oppression, not freedom, (but) nothing could be further from the truth," he explained. "America's founding set in motion the unstoppable chain of events that abolished slavery, secured civil rights, defeated communism and fascism, and built the most fair, equal and prosperous nation in human history."
The President's remarks also coincided with Constitution Day, which commemorates the signing of the document in Philadelphia back in 1787.
Happy #ConstitutionDay! https://t.co/DoahM18IuK pic.twitter.com/4pdkdqr75c

— Donald J. Trump (@realDonaldTrump) September 17, 2020