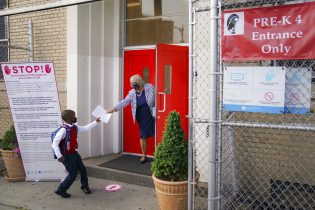 OAN Newsroom
UPDATED 1:50 PM PT – Thursday, September 17, 2020
The mayor of New York City has delayed reopening schools for a second time amid coronavirus related concerns. During Thursday's press conference, Mayor Bill de Blasio announced elementary, junior high and high schools will not open this Monday as planned.
The mayor previously agreed to delay the first day of school, which was originally slated for September 10th, after several teachers threatened to strike.
Teacher unions at the conference touted de Blasio's latest decision.
"If we're going to do this, we must make sure that we get this right," stated United Federation of Teachers President Michael Mulgrew. "We want our school system up, running and safe…because that's what the families, the children, of this city deserve."
The mayor also announced the school district has hired an additional 4,500 teachers over the last few days amid teacher shortages, which have been a major obstacle for reopening.
In the meantime, only pre-K and students needing special education will resume in-person learning as planned.